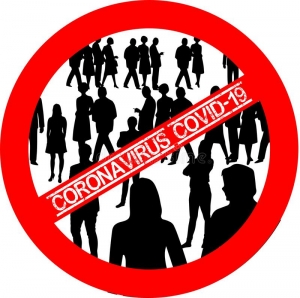 The strict lockdown restrictions introduced in Slovenia three weeks ago to fight the coronavirus pandemic are working and they will continue for "at least two to four more weeks"; only then will Slovenia consider starting relaxing the measures so that life may start returning to normal, government spokesperson Jelko Kacin said on Sunday.
"Once we initiate the relaxation of the measures they will have to be carefully planned and measured, with the awareness that we will have to live with the virus and the epidemic for a while", Kacin, the spokesman for the coronavirus epidemic, said at the government's daily media briefing.
Kacin said the curve of new infections was more favourable than in other EU countries but "this should not blind us". Stringent measures will have to continue.
Prime Minister Janez Janša delivered a similar message after a visit on Sunday to UKC Ljubljana, Slovenia's largest hospital. He said Slovenia was doing fine at the moment but was mindful of a possible new spike in infections and was keeping a close eye on "countries that thought they had contained the epidemic but where it [coronavirus] erupted again".
"It is necessary to be very cautious in the relaxation of certain measures. It is already clear – based on our experience and the experience of some others around Europe who have acted in a timely fashion – that a lot of what we currently perceive as the suspension of public life may gradually return to normal, even before the end of May and perhaps some of it before the end of April after there is enough protective equipment and we have learnt how to use it".
At the same time, services and industries will have to "get used to doing business in circumstances that have become the new normal – and this new normal will, unfortunately, last until an effective vaccine [is developed] or at least an effective drug against this disease", he said.
Bojana Beović, an infectious disease specialist who heads the Health Ministry's medical task force for coronavirus, said Slovenia was handling the epidemic well due to the strict measures and hospitals have not been overwhelmed yet, but she noted that this was mere "an intermediate objective", albeit a very important one.
The curves have flattened and the epidemic is currently in a "static state" but "we have not yet been able to reverse the trend". Achieving that will depend on government measures, as well as the actions of each individual, she said.
Slovenia reported 28 confirmed coronavirus deaths by Saturday, up by six in one day, whereas the number of confirmed infections increased by just 20 to 997. So far, 156 health staff have been infected.
A total of 27,764 tests had been performed until Saturday, placing Slovenia among the countries with the largest number of tests per million population./ibna