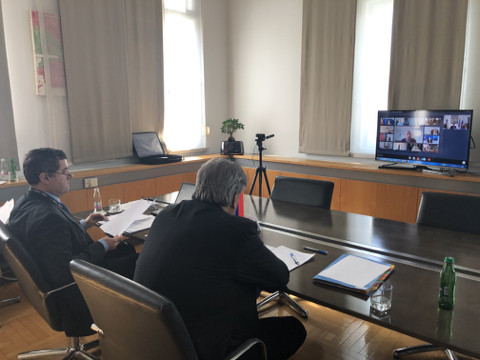 State Secretary at the Foreign Ministry of Slovenia, Tone Kajzer, attended an informal meeting of the Foreign Affairs Council of the EU's Foreign Ministers through an audio-video conference. The ministers discussed a joint EU response to the global pandemic COVID-19. They supported the assistance of the EU and the Member States to partner countries in the form of a common approach, dubbed "Team Europe". The key objective of the common approach is to provide much-needed assistance to partner countries, focusing on the most vulnerable countries in the African continent, European neighbourhood and the Western Balkans, while enhancing the role of the EU and increasing the visibility of its humanitarian aid.
The ministers discussed the need for joint, coordinated action by the EU and the Member States. They advocated a common approach, i.e. Team Europe approach that will provide rapid, comprehensive and visible assistance to EU partner countries. Africa, especially the most vulnerable countries in sub-Saharan Africa, was highlighted as a key region of assistance needed, while several ministers stressed that the EU should not forget about the neighbourhood countries, including the Western Balkans.
"Foreign Ministry State Secretary Kaiser stressed that solidarity with developing countries and those in humanitarian crises is very important at a time when we are facing one of the greatest challenges of the last decades, which requires us to adapt and seek new measures every day. He stressed that special attention should be paid to the Western Balkan countries, as they should not get the feeling that the EU has forgotten them in these times of crisis, but also emphasized the thematic response to the crisis, stressing that the EU should place more emphasis on access to safe, clean water and tidy sanitation, as water is the cheapest and most effective means of preventing the spread of COVID-19. He also advocated the use of new technologies and artificial intelligence to find answers to rapid response and crisis management", stresses the Ministry of Foreign Affairs in a statement.
As a responsible member of the international community and donor to development aid, Slovenia plans to devote all free humanitarian aid planned for this year to respond to COVID-19 in countries facing serious humanitarian situations (Yemen, Rwanda, Western Balkans region). Slovenia will also reprogram all ongoing and humanitarian development projects in such a way that the latter include in their activities the fight against the COVID-19 pandemic and its consequences.
In addition, Slovenia has already provided material assistance to countries in the Western Balkans that have requested it through the EU Civil Protection Mechanism. Material assistance to North Macedonia was shipped in early April, with assistance to Serbia and Bosnia and Herzegovina expected by the end of this week./ibna