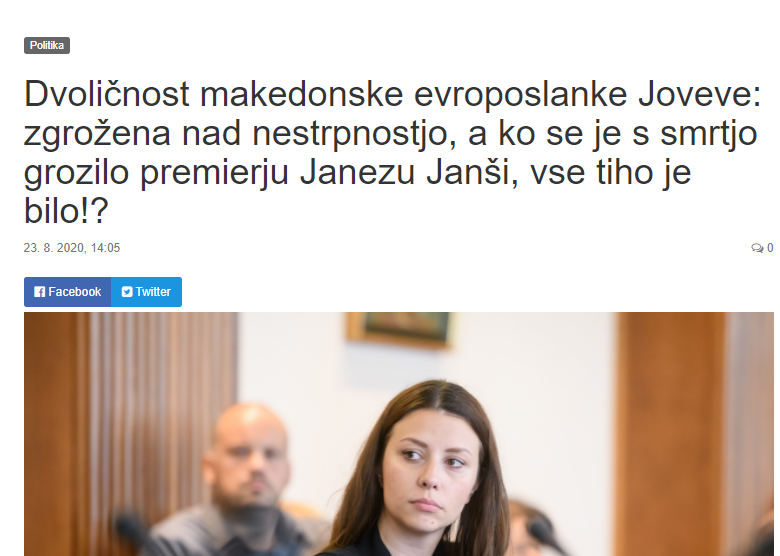 Slovenian MEP Irena Joveva (LMŠ/Renew) recently became a target of insults on social media and web portals linked to the ruling Democrats (SDS) because of her Macedonian descent, the Marjan Šarec List (LMŠ) announced.
Joveva revealed she had been a target of insults in a Facebook post last Thursday, noting that she had received personal attacks instead of comments over the course of Slovenian politics.
Her LMŠ party stated Joveva had been targeted online "with systemic insults and harassment from some party media and individuals associated with the SDS". On top of it all, web portal Nova24TV published an article on Sunday referring to Joveva as a Macedonian MEP, the LMŠ states.
Nova24TV, in the article on its website recalls that Joveva was one of the protestors who chanted the "Death to Janšism" slogan during a protest in Ljubljana. Janša described the slogan as an "open death threat".
"Joveva was born in Slovenia, ran for MEP in Slovenia and was elected in Slovenia. Her descent, of which she is particularly proud, is a personal matter and something that does not belong in the political discourse of Slovenia in the 21st century", the LMŠ states.
The opposition party also called on Prime Minister and SDS chief Janez Janša, co-owner of Nova24TV, to make sure that "his portal stops publishing insulting, nationalist and racist articles, which are putting Slovenia on the inglorious map of countries ruled by parties that systematically spread intolerance, hate speech and harmful nationalism, which has tragically marked Europe's history in the 20th century".
In a statement for the STA, the Prime Minister's office notes that it will not comment on the appeal.
The LMŠ also called on junior coalition parties, especially those that declare themselves centrist, to clearly say whether they support such spreading of intolerance and hostile nationalism by the senior coalition party. /ibna