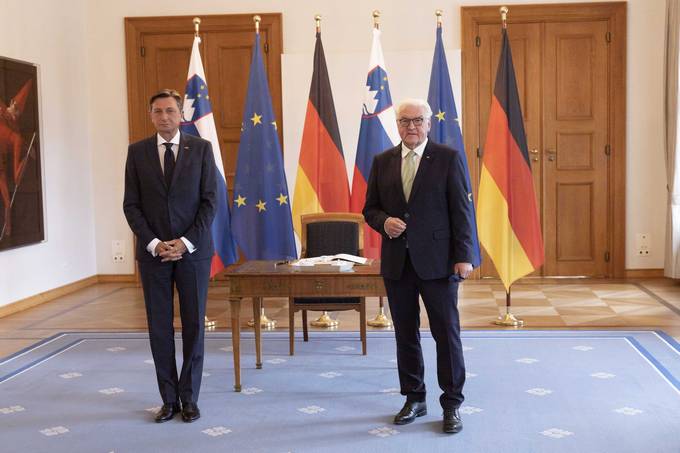 The President of the Republic of Slovenia Borut Pahor and the President of the Federal Republic of Germany Frank-Walter Steinmeier met today at a working meeting in Berlin.
The two presidents later described the meeting as necessary, useful and very honest. In a long, thorough and friendly conversation, they focused on the future of the European Union and ensuring its unity. They exchanged views on some current issues in the international community. In light of the need for a close alliance, they spoke about the European Union's relations with the United States as well as with Russia, Belarus, Turkey and the Western Balkans.
The two heads of state agreed on the need to intensify the debate on the future of the European Union, in which it was necessary to address common European values ​​and a vision that will unite the EU even more into a strong community. Slovenia and Germany are committed to the European idea, and the presidents will continue to work on a common European future. The European Union is more than just a treasure, the interlocutors said.
"Slovenia has several identities; it is a Central European, Mediterranean and Balkan country and is committed to closer cooperation in that framework. New initiatives for closer cooperation are possible, but they must not contradict the aspiration for a closer, more united and efficient European Union and our active place at its core, in addition to Germany and France", Pahor's cabinet notes in a statement.
In a press statement, the two presidents stressed that they would continue to maintain a regular dialogue and strengthen co-operation between the two countries at bilateral level, as well as co-operation within the European Union. President Pahor emphasized that him and President Steinmeier had discussed the unity of the European Union in the context of the role of German-French cooperation, which is built into the foundations of the European Union and is crucial for the common future. According to Pahor, Slovenia wants to remain part of the basic countries of the European Union. /ibna