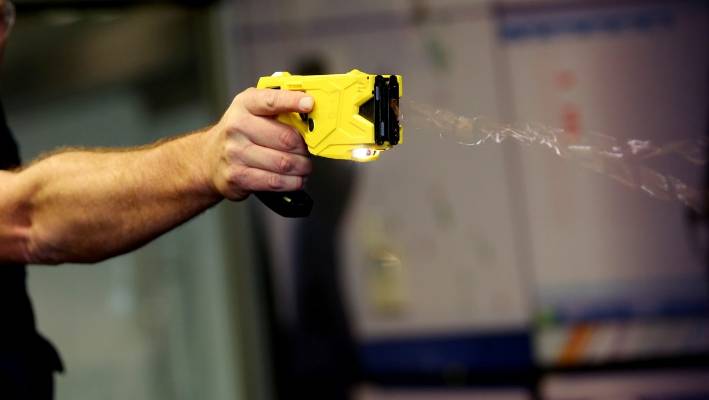 As of today, Slovenian police officers will be able to use electroshock weapons against assailants in certain dangerous circumstances. This is a new thing in state police work and the use of this weapon will be very restricted. Every incident with use of Taser X2 will be recorded and revised, the police have said.
The Slovenian police has 20 sets of the Taser X2 paralyser, and 237 experienced police officers have been trained to use them, the General Police Department said.
The Police in most EU countries uses this kind of weapon. The relevant laws in Slovenia were adopted three years ago, when Miro Cerar was PM. The law determines strict conditions for use of Taser X2, especially when it is used against vulnerable groups such as the elderly, children, pregnant women and the disabled, according to Vladimir Ilič from the General Police Department.
A police officer will be able to use the weapon against these groups of people only in circumstances that would also allow them to use firearms.
Experience from abroad has shown that with the right tactical approach, a police officer carrying an electroshock weapon can prevent the escalation of a situation and the use of a firearm, Ilič said.
Police officers will carry said gun in a way that it can be seen and will have to warn perpetrators before its use.
When turned on, the paralyser's light and two lasers will be on, while a sound warning is optional. The device can fire two small barbed darts intended to puncture the skin or clothes to administer the shock through a thin flexible wire.
The Taser X2 paralyser has a maximum power of 50,000 volts. Only 1.2 kilovolts is required to paralyse an attacker but the device regulates the power automatically, explained Matjaž Čuček for the General Police Department.
The electroshock weapons will be used together with a special camera that will automatically switch on to record police procedure 30 seconds before the firing, and a first aid kit to help the target.
Renata Rajapakse from the Health Ministry said that a doctor would examine every person on whom the weapon would be used.
All large police stations have received the new weapons, while one went to the special police forces.
During the passage of the bill paving the way for the use of the electroshock weapons, several NGO opposed it. The then Human Rights Ombudsman Vlasta Nussdorfer also expressed reservation./ibna