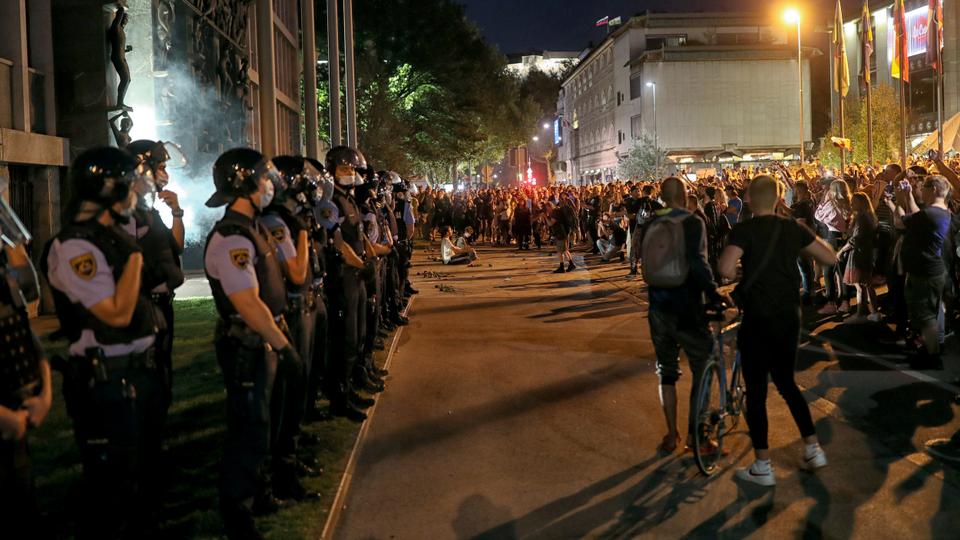 Several police officers are reportedly injured in the clashes between Slovenian police forces and citizens that opposed the tightening of the antiCOVID-19 measures.
On Wednesday, new measures were introduced and several reports said that there was not possible to purchase the oil at the oil station without the COVID pass.
Police used a water cannon and tear gas to disperse a group of several thousand protesters rallying in front of Parliament House on Wednesday afternoon.
Media in Slovenia reported that the protest started out peacefully in the afternoon, but towards nightfall, the crowd started to push against Parliament House and several signal torches were thrown at the building.
Police in riot gear reacted by firing tear gas canisters at the crowd, which soon dispersed into the surrounding streets. Smaller groups returned to the square and started throwing more torches, prompting the police to deploy water cannons. Stones were also thrown at police.
The protest was organised by several groups opposing vaccination, masks and the Covid passport mandate that entered into force the same day. The groups are active mostly on Facebook and their spokespersons decried the latest restrictions and called on the government and MPs to resign.
Ljubljana police estimate the crowd numbered 8,000 people and described the rally as "a mass violation of public law and order". It said officers were pelleted with torches, granite pavers and other objects. The police was still in the city around 10 pm to disperse individual groups that scattered around the centre.
Police Commissioner Anton Olaj called for tolerance and said on Twitter that violence at protests was "inadmissible".
Interior Minister Aleš Hojs pointed the finger at leftist parties, saying their "offshoots" had organised the rally. He said on Twitter that this was how "left fascism was implemented in practice".
Prime Minister Janez Janša said on Twitter that the government would not resign.
"Street violence has never led to anything good. The police are obliged to act in accordance with the law. The Government of Slovenia will not give in to any pressure. It will insist on measures to protect people's health and lives. It is time that the prosecutor's office/judiciary no longer tolerates threats and violence," stressed Janša.