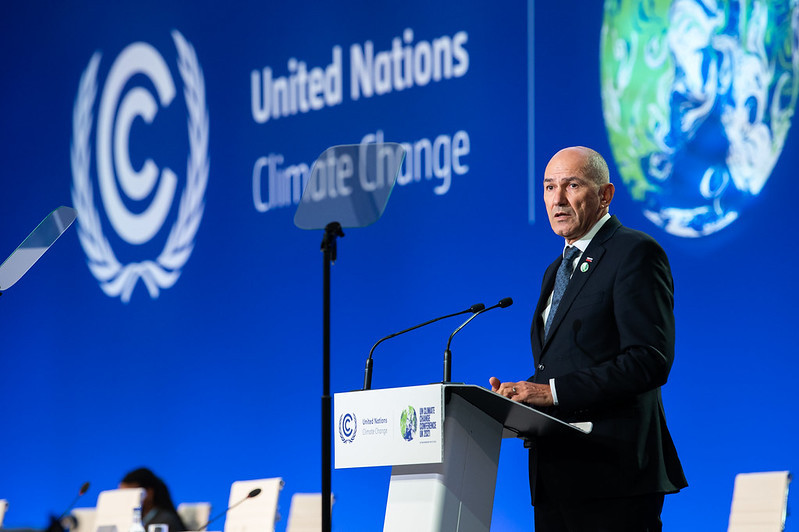 Slovenian Prime Minister Janez Janša stressed in his address to participants at the COP26 International Climate Change Conference in Glasgow, Scotland, that "now it is high time we deliver a realistic pathway towards the goal of 1.5 degrees."
He added that Slovenia, in the role of the Presidency of the Council of the EU, is working with its European partners towards this goal. "However, with only 8% of global CO2 emissions, the EU cannot solve this problem alone. We are committed to forming our offer, and we call on everyone else to do the same. Everyone must assume their share of responsibility to ensure that our collective efforts are effective. Our goal is to reduce emissions by 55% by 2030, and we are working to modernise our climate and energy legislation," the Slovenian Prime Minister stressed.
He also pointed out that, according to UN estimates, greenhouse gas emissions will be 16% higher by 2030 than they were in 2010.
"I understand the hesitation. The green transition must be aware of its external effects. Our efforts must not jeopardise social cohesion and economic development. In fact, they are a necessary condition for the successful reduction of emissions. I believe that technological and political innovations will enable us to find new ways to deliver on all three objectives," said Janša.
According to the Slovenian Prime Minister, moving away from coal and oil as a source of energy is a key element in achieving these goals. "Nuclear energy as a transitional source could replace coal and oil. More investments must be directed into new technologies and to support innovations that would lead to cleaner, safer and more efficient energy, such as hydrogen and fusion power. In any case, we need to present realistic action plans on the matter as soon as possible," the Prime Minister said.
He also stressed that Slovenia remains firmly committed to achieving the joint targets using a realistic approach. "We have adopted a long-term strategy that sets out the goal and the path to climate neutrality by 2050," he said, underlining the urgency of responding and adapting to the challenges of climate change. "We need to make our economies and societies greener and more resilient. Let us do our best to make this summit a success," the Prime Minister concluded.