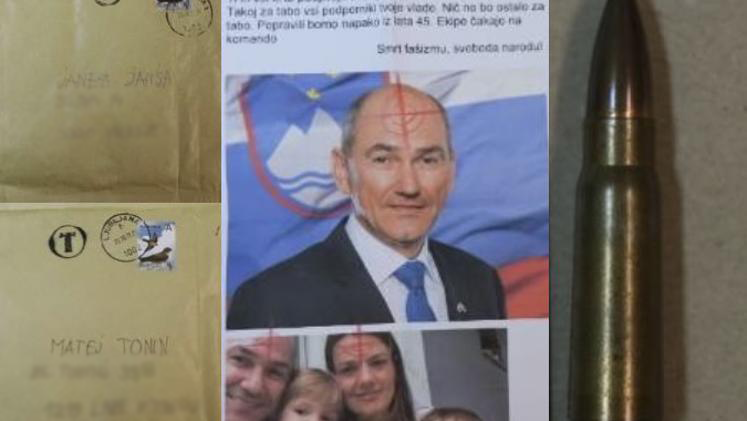 Media in Slovenia have reported on Sunday afternoon that Prime Minister Janez Janša and Defence Minister Matej Tonin on Friday received threats by mail, with live ammunition being enclosed in the letters. The PM and Defence Minister offices later confirmed the threats.
As the media reported, on Friday, Prime Minister Janez Janša and Deputy Prime Minister and Minister of Defence Matej Tonin received envelopes containing death threats at their home addresses. As reported by the web portal Siol.net, the envelopes contained letters and bullets of a larger calibre. According to N1, two strangers came to Tonin's home a week ago and said they were taking measurements for T2. It turned out that they were detained during recent protests because of the attack on police officer.
According to the Siol.net web portal, Prime Minister Janez Janša also received a photo of himself with a drawn target in the envelope.
An unknown sender also drew the targets on a photo of his family. Above the photo was a warning that "teams are waiting for the command." He added that the prime minister would "fall first" and that the same fate would befall all supporters of his government. According to Siol.net, the police are already investigating the case.
Minister of Defence Matej Tonin confirmed for N1 that he had received a letter with a threat and a bullet of a larger calibre. The threat read, among other things: "You p *** think the army will help you. You won't be when we judge you in a popular way. And that time is coming soon. Direct to the head."
The unknown sender also wrote that there would be no help for him and that he was recalculating which side would be better. "You won't wait for the election to be able to choose the side. You support Janša and weapons. You can't fix it. Write off! We know all your ways, don't worry. Security will not be able to help you because it will be completed too soon. The shirt will not be brown, but something else."
The Minister of the Interior, Aleš Hojs, has already responded to the threats to the Prime Minister and Deputy Prime Minister, writing on Twitter that the threats to the President and the Minister of Defence were unacceptable and reprehensible. "Even more reprehensible is the fact that the threats have not yet been condemned by all political parties," the interior minister wrote, adding that the police must do everything possible to find the perpetrators.