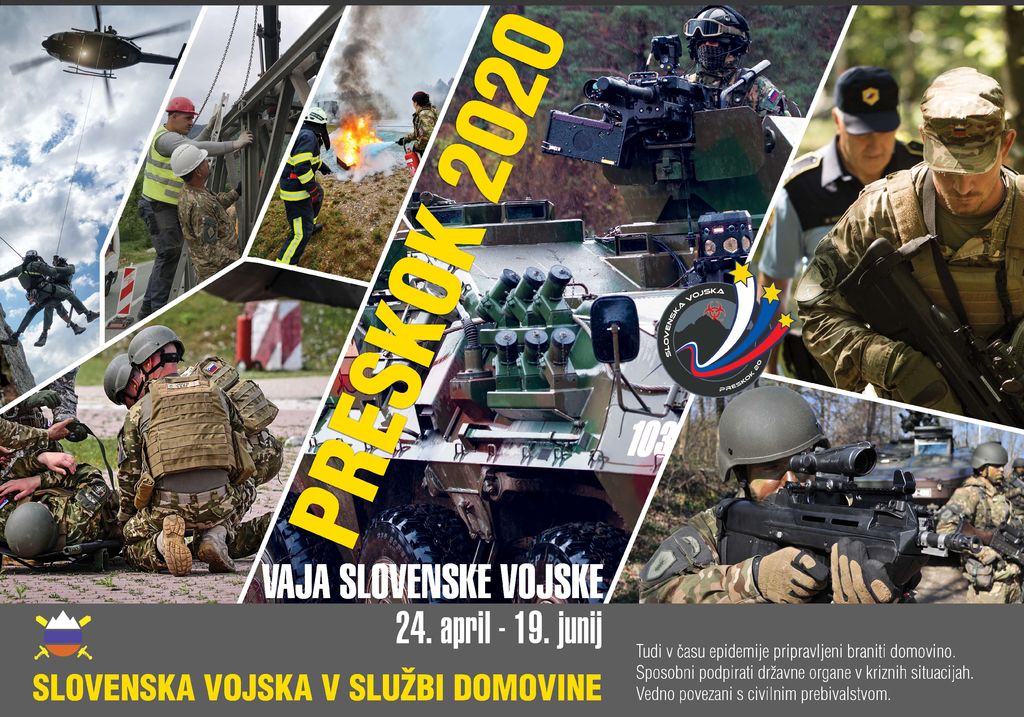 Slovenian Ministry of Defence plans to invest EUR 780 million in defence over the next six years, confirmed Defence Minister Matej Tonin.
Tonin joined President Borut Pahor, who is supreme commander, to observe a military exercise of the Slovenian Armed Forces (SAF)on Wednesday. The exercise dubbed Preskok 2020 took place in Babno Polje in the south of the country.
The minister commented that the name of the exercise suggested the SAF challenge was to "leap into a new reality, to be able to confront the crisis caused by the new coronavirus, and, above all, to be able to act in aggravated conditions".
The exercise is special in that it is not being held in the country's main military exercise grounds, but in local communities, which Tonin said welcomed SAF members well. Such a format of the exercise is meant to bring the army closer to the people.
Tonin repeated his pledge to work for amendments to the defence act and defence investment act, with talks underway with opposition deputy factions on the former, which requires a two-thirds majority in parliament to pass.
The gist of amendments to the defence act is to tackle the status of soldiers beyond the age of 45 when under the current law they are required to retire. "The best promoter of the SAF is a satisfied soldier", Tonin said.
He was happy to announce that the ministries of defence and finance had agreed on the final wording of the bill amending the defence investment act that foresees EUR 780 million investment in SAF over the next six years. Tonin will now seek the coalition's support for the bill.
Pahor noted that the needed major investments in the army could not be planned over a single government term, declaring that the planned investment would "allow the SAF to continue as the military pillar of Slovenia's security".
The president underscored that Slovenia being a safe country was one of the major achievements since its independence. He said Slovenia had no enemies in the world, but had many friends and was acquiring new ones.
"It is an achievement that is the merit of the security system", the president said, noting the contribution of the police force and other factors aside from the army.
The exercise, which also involved overflights by US F16 fighter jets and Slovenian Pilatus aircraft, was also viewed by other senior guests, including US Ambassador Lynda C. Blanchard, the chair of the parliamentary Defence Committee Samo Bevk and Interior Ministry State Secretary Franc Kangler.
The Leap 2020 exercise has been running since 11 May at various locations across the country. A total of 2,500 military personnel will be involved in the tactical drills until 19 June./ibna