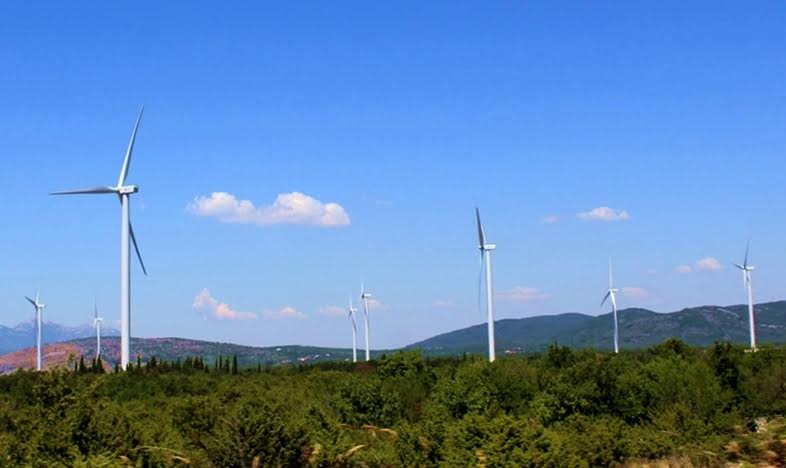 The Slovenian government recently endorsed the construction of a wind farm with a rated capacity of 21.6 megawatts on a mountain ridge near the border with Croatia.
As evwind.es recently reported, in October 2019, the Ministry of Environment and Spatial Planning announced it was working on national zoning plans for eight wind farms, while power utility Dravske Elektrarne Maribor (DEM) announced it was planning to invest € 65 million in three wind farms – Ojstrica, Paški Kozjak, and Rogatec.
The planned construction of the Rogatec wind farm will contribute to the increase of electricity production from renewable energy sources, in accordance with the energy policy, the Energy Act and the Spatial Development Strategy of Slovenia, the government stated in a press release.
On 8 July, the government adopted the decision on the implementation of a national zoning plan for six wind turbines on the Maceljska Gora ridge in the area of Rogatec.
Dravske Elektrarne Maribor, a subsidiary of the state-owned power group HSE, will be in charge of the project. The type of the production units is yet to be determined, although the investor is planning on using technologically advanced units both environment- and efficiency-wise.
The government notes the project will contribute to increasing the output from RES, while also securing self-sufficiency in electricity supply and greater diversification and dispersal of energy production sources, in line with the country's energy policy principles, Slovenian media report.
The six wind turbines, each with a rated capacity of up to 3.6 megawatts, or a combined 21.6 MW capacity, are expected to be built in a sparsely populated north-eastern corner of the Rogatec municipality, at least half a kilometre from the nearest settlement.
The wind farm could produce 55-gigawatt hours of power. The units will be connected via a 20-kilovolt cable conduit to the planned Rogatec wind farm substation, and from there by two further cables to the Rogaška Slatina transformer and distribution station.
Under the national energy and climate plan, Slovenia should derive at least 27% of its final energy consumption from renewable sources by 2030. The proportion was at 21.1% in 2018.
Slovenia has 12 locations of various sizes that measurements have shown are suitable for wind farms, but only two wind turbines are in fact operating; a 2.3-megawatt and a 0.9-megawatt unit, both located in the south-west.
In 2018, the output of the two wind turbines was equivalent to just 0.04% of Slovenia's energy consumption. They generated six-gigawatt hours of electricity.
Despite public support for green energy in principle, opposition to wind farms by environmentalists and NIMBY initiatives has been considerable. It is worth noting that NIMBY refers to the acronym for the phrase "Not In My Backyard". /ibna