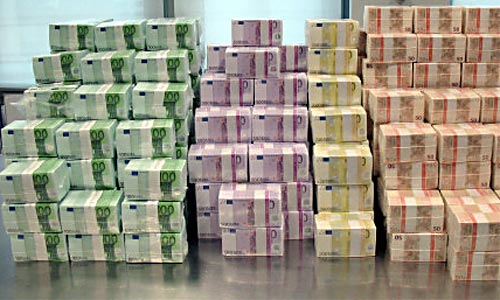 Review by Christos T. Panagopoulos
Slovenia has so far only secured EUR 2.6bn or 53.7% of the EUR 4.8bn available in EU cohesion funds in the 2007-2013 financial period, shows a report on the phasing of EU funds debated by the government on Thursday.
In the current financial period Slovenia confirmed EUR 5.3bn worth of instruments, with the confirming of backup projects being the reason for the sum exceeding the total funding available.
Contracts have been signed for EUR 3.8bn or 78.9% of funds available, EUR 2.6bn have been paid from the national budget and EUR 2bn or 48.3% of total funds available paid back from the EU's purse.
"This means that these projects are ready and approved. There are presently EUR 500m worth of tenders published for construction work in environment and transport that need to be executed in the future", the government Communication Office wrote in a press release.
In the first half of this year six public tenders and 36 project worth a total of EUR 453m have been confirmed, which is a precondition for further phasing. EUR 363.5m worth of contracts have been signed, and EUR 185.4m paid from the budget.
The results are slightly poorer than expected, as 25% of the EU funds envisaged in the 2013 supplementary budget were paid from the budget by July 19th.
The main reason for this is that expenditure in environment and transport infrastructure has not been executed in line with forecasts, while the construction season was also delayed by the slightly longer winter.
In line with the report, the government will step up activities in the coming month to speed up the execution of projects, reimbursement procedures, as well as to unfreeze EUR 240m worth of funds put on hold over two suspected fraud cases.
Under the EU's 2014-2020 budget, Slovenia is slated to receive a total of around EUR 5.3bn in EU funds over the next seven years, of which nearly EUR 3bn will be for cohesion and EUR 1.6bn for Common Agricultural Policy (CAP).
Source: Slovenia Times