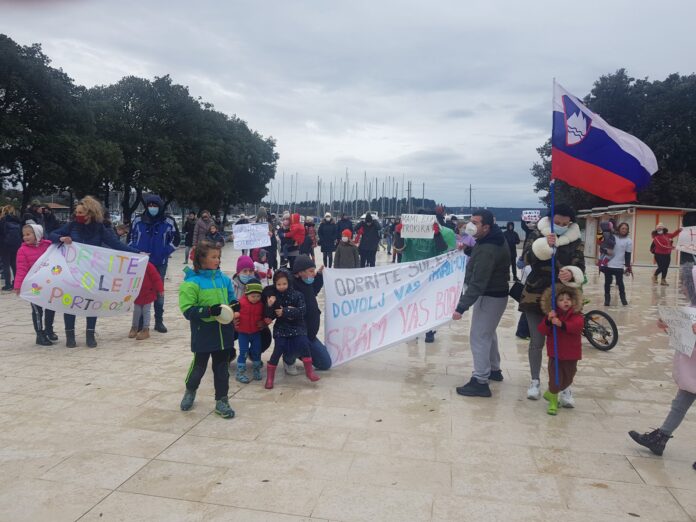 Rallies were held across the country on Sunday as parents protested the closure of schools after two regions slipped back into the red zone last week. The government decided schools should return to remote teaching and kindergartens should close on Monday in the two regions, after pupils in grades one to three were allowed back in 9 out of 12 regions last week.
After some 200 people protested in Trbovlje on Saturday, several hundreds took to the streets of Koper this morning, while around 100 people gathered in Ljubljana. Protests were also staged in Maribor, Kranj and a number of other towns, according to STA reports.
In Koper, protesters carried a big banner saying "Schools must remain open! Enough! Zoom is cancelled!", while another one read "Open kindergartens, shut down the government!".
"This is not an uprising, this is not a revolution. This is a fight for the basic rights of all of us, but especially our children. We're here today to say no to the further destruction of our children's future," one of the parents in Koper said.
Prime Minister Janez Janša responded to the Trbovlje protest via a tweet this morning, describing it an "irrational and dangerous exploitation of children for political purposes amid an epidemic."
"Furthermore, the rally is illegal. This is such an irresponsible behaviour that exacerbates the situation in individual regions," Janša added, also retweeting a tweet saying that the organiser of the Trbovlje protest ran for the opposition Marjan Šarec List (LMŠ) in the 2018 local election.
In 9 out of Slovenia's 12 administrative regions, kindergartners and students in the first three grades of primary school were allowed to return to schools and preschools on Tuesday after more than three months.
However, on Thursday, the government decided once again to shut down schools in Zasavje and Obalno-Kraška after the number of coronavirus cases soar, pushing the regions back into the red zone.
Today, the Silver Thread, an association promoting dignified old age, which claims the closing of schools due to a leap in infections among elderly home residents is widening the intergenerational divide, joined parents in their plea to reopen schools.
Chief Biserka Marolt Meden said in a press release that parents and children had started blaming the elderly for not being able to return to school.
The association called on decision-makers to lend an ear to the people, first and foremost the government task force, which has already said in the past that other aspects of life should have been shut down sooner than schools. /ibna