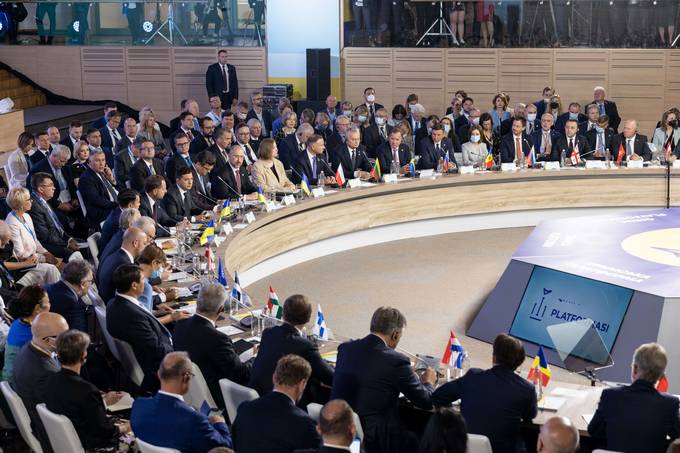 The President of the Republic of Slovenia, Borut Pahor, attended on Monday the opening summit of the Crimean Platform in Kyiv at the invitation of the President of Ukraine, Volodymyr Zelensky. A joint declaration agreed between the European Union and Ukraine was adopted at the meeting.
Pahor supported the territorial integrity and independence of Ukraine while calling for a more committed and sincere dialogue between Ukraine and the Russian Federation, as well as the European Union and the Russian Federation.
The Slovenian President expressed support for international efforts for lasting peace in eastern Ukraine on the basis of the Minsk agreement and the so-called Steinmeier formula.
At the event on Monday, President Zelensky presented the Order of Prince Jaroslav to the President of the Republic Borut Pahor.
"Summit comes at times of growing instability in the region and beyond. I see it as a prominent step in support of joint efforts to keep the illegal annexation of Crimea high on the international agenda. We have gathered here to demonstrate collective responsibility and tell the world that we care, that the events of 2014 are not forgotten.
Slovenia shares concern over the deterioration of the human rights situation in the peninsula and reminds Russian Federation to uphold its obligations, under international humanitarian, human rights and maritime law.
We welcome and endorse the Joint Declaration of the International Crimea Platform Participants, as agreed between the European Union and Ukraine," said Pahor in his address.
He commended Ukraine for its commitment and progress achieved on that path and encourages authorities to accelerate the reform pace, in particular in the field of rule of law, fights against corruption and independent judiciary.
"Let me conclude by saying that Slovenia is committed to a strong partnership with Ukraine on its reform path. We are proud to contribute valuable experience and expertise in the decentralization reform and will continue to do so," said Pahor.