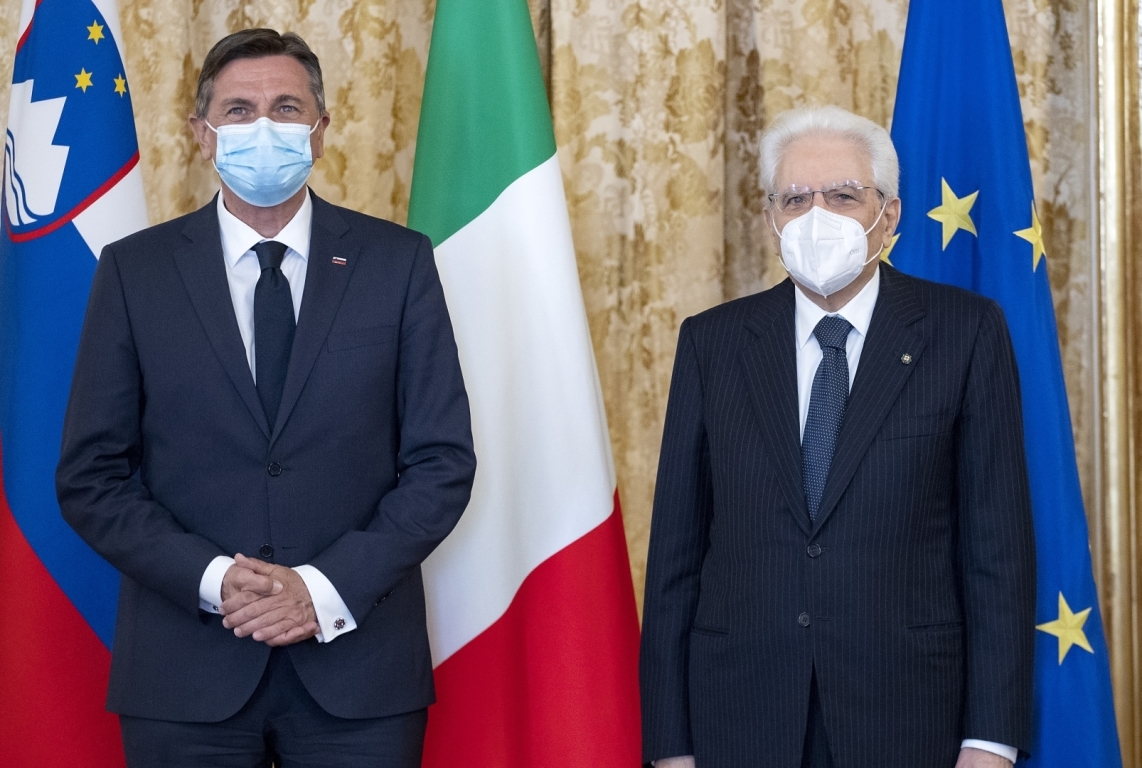 At the invitation of the President of the Italian Republic Sergio Mattarella, the President of the Republic of Slovenia Borut Pahor paid today an official visit to Rome. The meeting of Presidents Pahor and Mattarella is a continuation of the regular dialogue the presidents of the two neighbouring and friendly countries maintain, even amid the epidemic. President Pahor was President Mattarella's first guest this year.
In a joint statement, Presidents Pahor and Mattarella announced their intentions to visit Nova Gorica and Gorizia together in the autumn, which as "two Gorizia and one city" tell a wonderful, borderless story of the European Capital of Culture 2025, which extends far beyond regional frameworks, is European in essence and should be seen as a model of coexistence and cooperation.
In a statement to the Slovenian media, President Pahor described the meeting as very useful: "We have made decisions that will have a positive impact on relations between Italy and Slovenia," said President Pahor. He and President Mattarella called for the process of returning the Narodni dom to the Slovenian national community to be completed as soon as possible, preferably by the end of July, a year after the agreement was reached on 13 July 2020 to mark the centenary of the burning of the Narodni dom by Italian fascists. The two presidents also addressed the issue of the political representation of the Slovenian national community in the Italian parliament, following a decision to significantly reduce the number of deputies and senators.
According to President Pahor, President Mattarella expressed his readiness to closely monitor the debate so that the Slovenian representatives would remain in the Italian parliament.
Presidents Pahor and Mattarella also discussed the challenges facing the European Union and called for overcoming differences rather than deepening them.
Yesterday, Pahor visited the Italian Society for International Organizations (SIOI) and met with Franco Frattini, the president of the society, former vice-president of the European Commission and former Italian foreign minister. They discussed current topics around international relations, focusing on developments in the Mediterranean, the European perspective of the Western Balkans and the European Union's relations with external partners. They exchanged assessments on tackling the Covid-19 epidemic, both at national and European Union level. /ibna