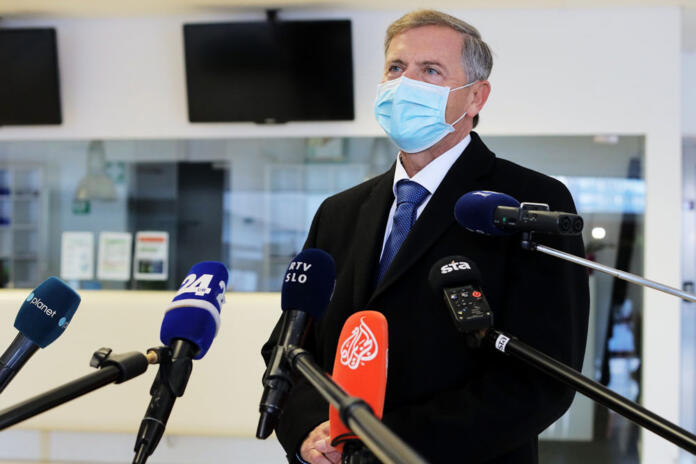 After meeting with representatives of the informal KUL coalition on Tuesday afternoon, Pensioners' Party (DeSUS) president Karl Erjavec announced that a motion for a constructive vote of no confidence in the government would be filed next week or by the end of the year. He expects that the required 46 MP votes will have been secured by then.
Speaking to the press after meeting with the heads of the left-leaning opposition Marjan Šarec List (LMŠ), the Social Democrats (SD), the Left and the Alenka Bratušek Party (SAB) which comprise the Constitutional Arch Coalition (KUL), Erjavec stated it had also been agreed that the parties' bodies would endorse him for Prime Minister-designate.
According to the DeSUS president, this is important after having been widely speculated lately that someone else could assume this role. The endorsement would guarantee that, once the motion is submitted, he would be named the candidate.
While Erjavec told the STA on Monday that he would be run for prime minister-designate only if at least 46 signatures of MPs were secured, it seems now that the motion may be submitted either way.
He expects a sufficient number of signatures to be collected by the end of the year, claiming that "things are looking good and we are very close".
According to him, the motion of censure is also an opportunity for MPs to add some pressure on the government's choices in managing the coronavirus which, "with regard to the epidemic, have been unsuccessful". He pointed out certain moves by the government, including its approach to the media and the financing of NGOs.
Recently, DeSUS abandoned the ruling coalition led by PM Janez Janša's SDS party. The DeSUS leadership decided to join the opposition following many disagreements with the SDS on important issues regarding the battle against coronavirus and other outstanding matters. Pro-Janša media commented that Erjavec and DeSUS are leaving the coalition at a moment when the EU is getting ready to pay up the financial aid negotiated by Janša. /ibna