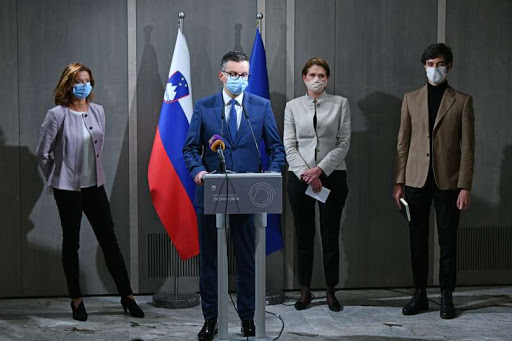 The leaders of the four centre-left opposition parties have confirmed they have launched talks to form an alternative to the Janez Janša government. The idea is based on an initiative by economist Jože P. Damijan, who is willing to become prime minister.
Marjan Šarec, the former prime minister and leader of the LMŠ party, told reporters that the basis for talks was the Constitutional Arch Coalition initiative presented by Damijan.
The LMŠ, Social Democrats (SD), Left and the Alenka Bratušek Party (SAB) deem the manifesto presented by Damijan acceptable because it contains points from their own platforms, which makes it a good basis for talks.
Šarec said they wanted to lead talks away from cameras and microphones. As for support to Damijan, he said nobody was bothered by him "but at this point we can't say we've reached common ground on everything already".
The four parties have a combined 39 seats in the 90-strong National Assembly, so they will also invite the coalition Modern Centre Party (SMC) and Pensioners' Party (DeSUS) to join the talks, to "give them an opportunity to jump off the train of madness that is hurtling into ruin", as Alenka Bratušek said.
However, the two junior coalition parties do not seem impressed by the initiative, with SMC head Zdravko Počivalšek and interim DeSUS leader Tomaž Gantar rejecting it downright.
The manifesto of the Constitutional Arch Coalition sets out as priorities an effective response to the coronavirus crisis in healthcare; infrastructure for a kind future; modern infrastructure, science and culture; a green and digital transformation and stimulating technological development and the marketing of breakthrough ideas.
As an effective response to the health crisis the manifesto calls for an immediate creation of regional centres to treat Covid-19 patients, and a plan to reduce waiting times. Health funding is to be increased by 1% of GDP in 2021 and by 3% of GDP by 2025.
The document also lists free pre-school care and education for all children, regulation of flexible forms of employment and distance jobs with full social security for all forms of work.
To fund the construction and renovation of the rail network, new schools and hospitals, the manifesto proposes to create an investment fund by issuing 30-year infrastructure bonds on the domestic market.
The manifesto also proposes for budget funding of research and development to be raised to 1% of GDP by 2025 and increasing culture funds by 20%.
Janša responded to the initiative by tweeting that "naming a small group of left and far-left parties and tiny parties a constitutional arch means to ridicule both the Slovenian language and Slovenia's constitutional order". "By definition a constitutional arch requires the representation of at least two-thirds of the electorate", he added./ibna