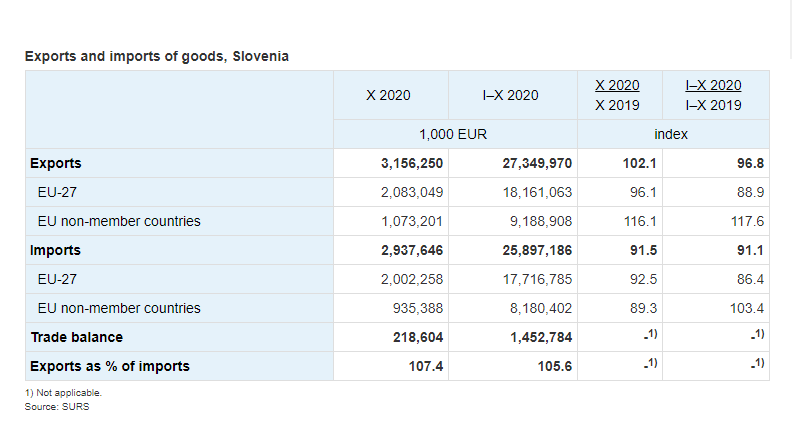 In October 2020, Slovenia's exports amounted to EUR 3.2 billion (an 2.1% increase YoY), while imports amounted to EUR 2.9 billion (8.5% drop YoY), the State Statistical Office announced on Thursday.
"Slovenia exported goods worth EUR 3.2 billion and imported goods worth EUR 2.9 billion in October 2020. Compared to October 2019, exports rose by 2.1% and imports fell by 8.5%. The October 2020 export value marked a ten-year high. While imports increased compared to the previous month, they remained below the October 2019 figures, when a ten-year had been reached," the press release notes.
A surplus in external trade in goods was recorded in October 2020. It amounted to EUR 0.2 billion, while the export/import ratio was 107.4%. Following last year's October deficit, a surplus was recorded this year in October, the highest in the past ten years.
It was added that external trade value with the EU Member States dropped in October 2020; in trade with EU non-member countries, exports were higher while imports were lower YoY.
"External trade with EU Member States continued to tumble in Slovenia. Exports to these countries in October 2020 were lower by 3.9% and imports by 7.5% compared to October 2019. In October 2020, exported goods' value amounted to EUR 2.1 billion and imported goods' value to EUR 2.0 billion. In trade with the EU Member States in October 2020, Slovenia generated 66.0% of all exports and 68.2% of all imports. The decrease in the value of trade with this group of countries was mostly affected by the decreased trade activity with Italy, Austria and -the most important trade partner- Germany. As for exports, a noticeable decrease in trade value was also observed with Croatia," the Office announced.
Similar to the previous month, data indicate that in October 2020 Slovenia recorded growth in trade with EU non-member countries at exports, whereas imports shrank. YoY, exports were higher by 16.1% and imports lower by 10.7%. Slovenia's exports to EU non-member countries in October 2020 amounted to EUR 1.1 billion and imports to EUR 0.9 billion. With regard to exports, Switzerland was Slovenia's most important trade partner in this category, with the rising trade value with this country (by almost 76%) affecting the increase in trade value with EU non-member countries the most. As for imports, the sharpest fall in trade was recorded with Russia.
Slovenia's exports in the first ten months of 2020 amounted to EUR 27.3 billion and imports to EUR 25.9 billion. Exports in the observed period decreased by 3.2% and imports by 8.9% YoY.
A 1.5-billion-euro external trade surplus was generated in the first ten months of 2020, with the export/import ratio at 105.6%. /ibna