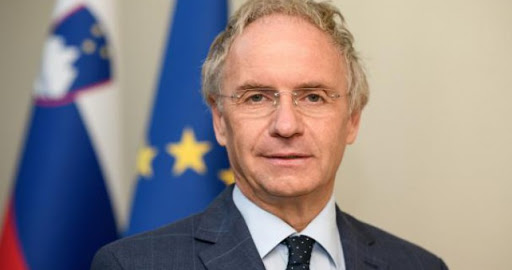 The Slovenian National Assembly will vote on the opposition-sponsored motion to oust Interior Minister Aleš Hojs on Friday in what is seen as the first major test for the ruling coalition following the change of leadership in the Pensioners' Party (DeSUS). Still, indications prior to the vote suggest it will be in Hojs's favour.
The motion, filed by four left-leaning opposition parties on 9 June, was prompted by the Interior Ministry's decision to overturn a ban on a concert in Maribor by the controversial Croatian nationalist singer Marko Perković Thompson.
The Marjan Šarec List (LMŠ), Social Democrats (SD), Left and the Alenka Bratušek Party (SAB) argued the decision was motivated by politics rather than law and was tantamount to glorifying the Ustasha regime, hatred and violence in Slovenia.
The motion lists several other reasons why the parties believe Hojs should be dismissed, including swift replacements in key positions in the police force, which they believe are motivated by his desire to subjugate the vital services involved.
Moreover, the parties allege the minister mislead the public and lying in an attempt to secure police powers for the army through the invocation of a special article in the defence act.
Hojs flatly denied all the allegations against him, arguing the opposition was driven by the desire to smear him ideologically. As for the reversal of the Thompson concert ban, he said he had nothing to do with what was an expert decision taken by civil servants.
Hojs tendered his resignation to PM Janez Janša in late June in the wake of police raids targeting a fellow minister as part of an investigation into the procurement of medical equipment. However, Janša did not accept the resignation, asking Hojs to reconsider his decision.
"I've told him I'll stay on until the interpellation, what follows we'll discuss after the interpellation", Hojs said recently in a reference to the vote of no confidence, thus raising speculation about his potential replacement after the vote.
For the ouster motion to succeed, at least 46 of the 90 National Assembly deputies would have to vote in favour of the motion. The parties sponsoring the motion have 34 votes between them, with at least one DeSUS member expected to vote for Hojs's dismissal.
The session at which vote on Hojs will be taken had initially been planned for 14 September, which would require for LMŠ deputies quarantined after a contact with a person infected with coronavirus to vote remotely. However, by Friday the quarantine will have expired so the session will be held as usual./ibna