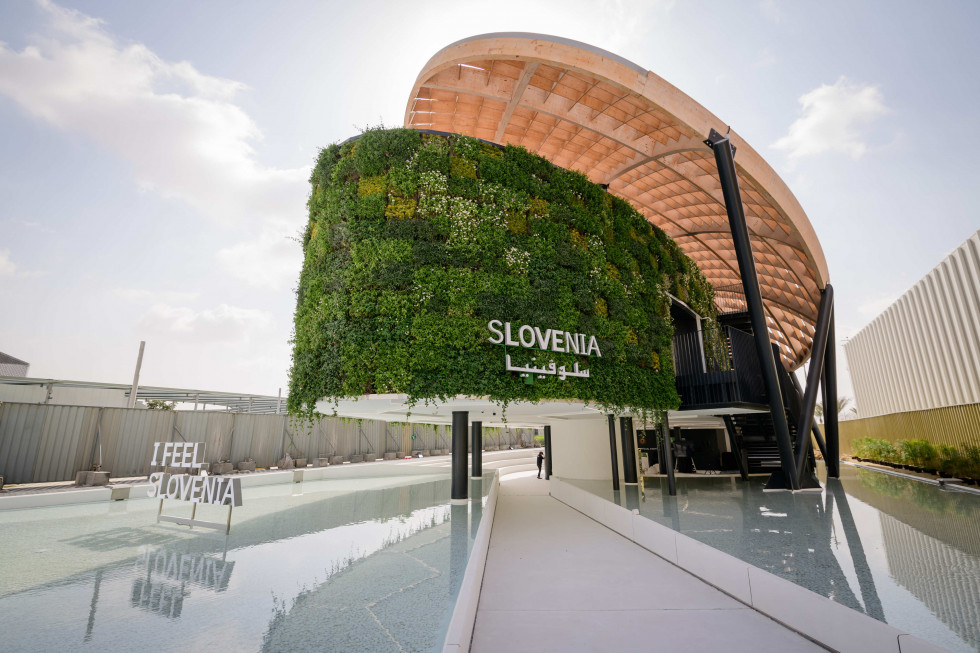 Slovenian Minister of Economic Development and Technology Zdravko Počivalšek, who is on an official visit to the United Arab Emirates, visited the EXPO 2020 world exhibition venue and got acquainted with the preparations of Slovenia for this year's largest event.
The Expo venue, which spreads over 440 hectares, is getting its final look. Last Friday, the first of the three thematic pavilions opened its doors to visitors, indicating a keen interest in the event in the host country. The final project will also include 83 national pavilions, including the Slovenian one. It lies in an attractive location near one of the entrances to the exhibition venue and attracts attention at first sight, as it stands out on the green facade, one of the most recognizable features of the building, which was visited today by the Slovenian delegation.  The pavilion and the goals of the country at the Expo in Dubai were presented to the local media.
Minister of Economic Development and Technology Zdravko Počivalšek described Slovenia's appearance at the Expo as a strategic decision, which unlocks the presence of the Slovenian economy and science to new markets in the countries of the Middle East, South Asia and Africa. "This year's Expo will be a record in all respects and the organizers are very well prepared for it. For the countries participating in it, it will be an entry point into markets where more than 3 billion people live. These are markets that are of great importance to us, as there are still a number of untapped opportunities for Slovenian knowledge, products and solutions," he said.
Počivalšek, who is in a working visit to the United Arab Emirates, described the presence of the Slovenian pavilion as a special milestone. "From now on, all our activities will be focused on the content of the performance at the Expo and I am sure that, in the six months of the exhibition, we will present in Dubai relevant and internationally ground-breaking business, tourism, scientific and other stories that will rank us among the countries that offer solutions to important global challenges. At the Expo, the size of the country does not count; it is the power of its ideas that does."
The General Commissioner of Slovenia for Expo Matic Volk described the attendance of the exhibition as "a unique opportunity to show the world what we know and thus strengthen our business paths to markets that are experiencing a great boom. It is very important for Slovenia as a distinct exporter to be part of the story at the Expo, as this event will certainly facilitate the path to new business agreements, which is extremely important for the Slovenian economy and other spheres in light of the pandemic recovery."
The Slovenian pavilion, the idea of which was born in the architectural studio Magnet design by architects Robert Klun and Sandi Pirš, illustrates a floating green oasis on the water surface, with which the artists wanted to highlight Slovenian wisdom, innovation and energy. /ibna