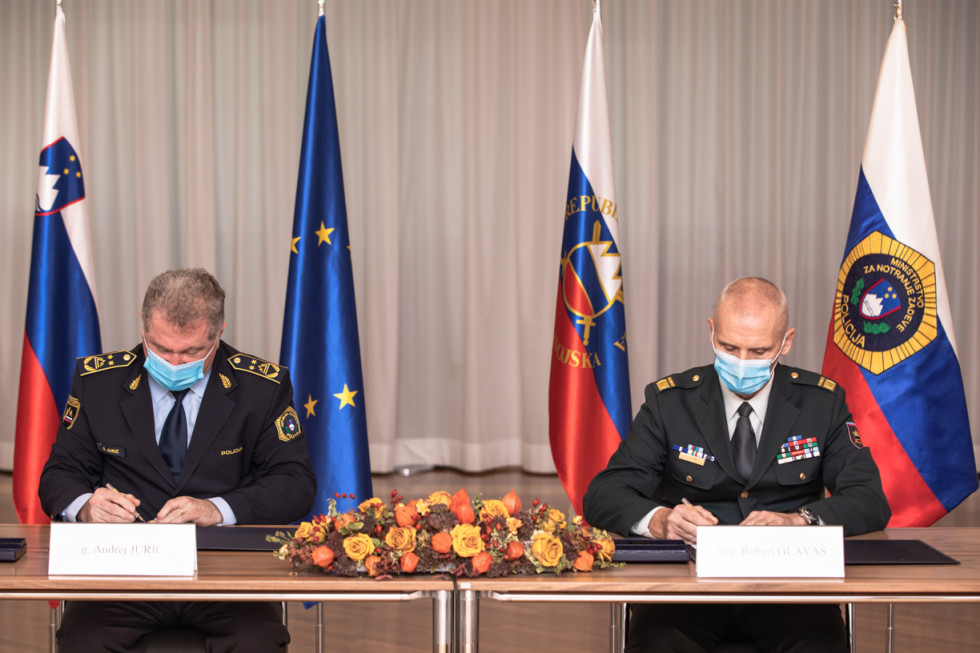 The Chief of the General Staff of the Slovenian Armed Forces, Brigadier General Robert Glavaš, and Acting Director General of the Police Andrej Jurić signed an operational and tactical memorandum of cooperation between the Slovenian Armed Forces and the Police today.
The cooperation plan, the purpose of which is to ensure the stability and internal security of all Slovenian citizens, determines the forms of work of police officers and soldiers in protecting the border and preventing illegal migration. The basic guidelines of the operational-tactical plan provide that the protection of borders is led and supervised by the police; that police units of mixed patrols of policemen and soldiers are led by a policeman, while soldiers are commanded by military commanders. Additionally, members of the Slovenian Armed Forces shall cooperate in protecting borders with military tactics and techniques and procedures for which they are qualified.
The Slovenian Police and Army have been cooperating solidly in border patrol since since 2015, when Slovenia, like other countries in the region, faced mass migration for the first time in the history of its independence. Already at that time, a similar operational-tactical plan was adopted, which regulated the cooperation of the two institutions in the protection of the state border, and was later amended and supplemented according to the development of cooperation.
As the detection and prevention of illegal migration is becoming more demanding (the number of illegal crossings is increasing, migrants often flee crossing the border on forested, impassable terrain, etc.) in the Police and the Slovenian Army, it was as assessed that a new operational and tactical plan should be prepared. The plan will take into account the experience gained by joint action and the latest trends and methods of addressing the illegal crossing of the state border.
As Acting Director General of Police Andrej Jurić pointed out, the police want the army to become even more active in protecting the border: "We are trying to make a positive decision on activating Article 37a of the Law on Defence, which determines the exceptional powers of the army. Namely, Slovenia is currently facing security conditions, which represent an exceptional burden for the work of the police; an increase in illegal crossings on the one hand, and the pandemic on the other. Both situations require a greater presence of police officers both at the border and in the interior of the country, which is difficult to ensure given the current police staff."
The Chief of the General Staff, Brigadier General Robert Glavas, emphasized that "the new plan does not change the tasks of the Slovenian Army at the border and its cooperation with the civilian police, but only defines its role militarily," and pointed out that the cooperation of the Slovenian Army and Civilian police, especially in this task "is professional, expert and exemplary, which is essential for the good functioning of both pillars of national security." /ibna