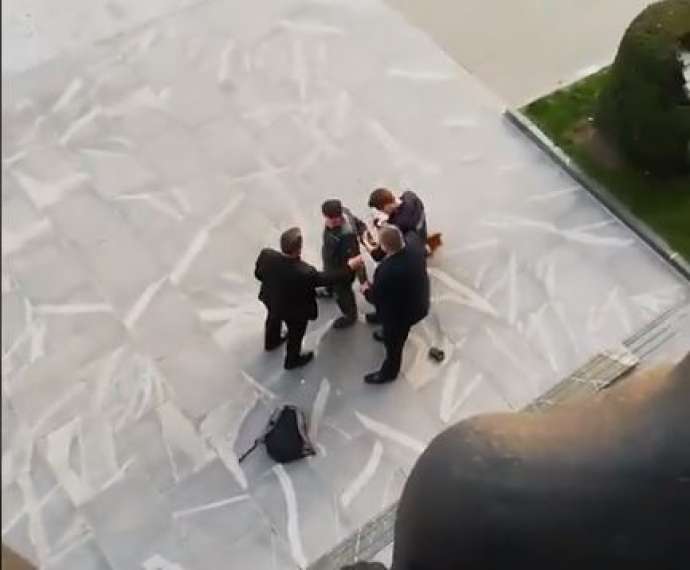 A man attempted to enter the National Assembly building with a chainsaw on Tuesday afternoon, shouting "I've had enough of lockdown", with security guards stopping him at the main entrance.
Social media footage from the scene shows the man, having a dog in tow, being tackled by a security guard while another guard turned off the chainsaw.
Nobody was hurt and the incident did not affect proceedings at the National Assembly, which was debating at the time on Speaker Igor Zorčič's dismissal.
Incident pred Državnim zborom. Moški s psom in prižgano motorno žago je želel nad parlament. "Dost mam tega zapiranja," je vzklikal. Policisti so ga že obvladali. pic.twitter.com/bvc4Z80K8P

— Luka Svetina (@LukaSvetina) March 30, 2021
The Police say they were informed of the incident around 7 pm. A patrol was dispatched to the scene and brought the man into custody.
The situation with coronavirus in Slovenia is rather doomy, with no signs of radical improvement. From a total of 5,395 PCR tests carried out on Monday, 1,080 came back positive with a positivity rate of 20%, up from Sunday's 16.4%. The daily death toll was at 15. The seven-day average of new cases rose by 14 to 957, the government announced. The number of COVID-19 patients in hospitals declined to 515, of whom 105 are in intensive care, seven fewer than the day before.
Slovenia has conducted over 2,526,000 COVID-19 tests since the global pandemic erupted last year. There have been over 4,321 deaths recorded due to coronavirus in Slovenia, while over 214,000 people have been infected with the disease. In Slovenian hospitals, there are currently 515 people being treated for coronavirus. At the moment, Slovenia is facing a new lockdown due to the rising number of infections.
The government recently decided to tighten the measures against the virus with strict rules and controls on the borders, a ban international travel and many other provisions. The most draconian measure will be the eleven-day lockdown scheduled for April 1.
The Chamber of Craft and Small Business (OZS) expressed its dissatisfaction over the new shutdown of small businesses during 1-11 April, which they find discriminatory given that large companies will be able to work without disruption. "We cannot accept the claims that infection risk in small workshops and salons is higher than in large production halls with 500 or 1,000 employees. Our members tell us that they want to work and not receive subsidies," OZS president Branko Meh said. /ibna