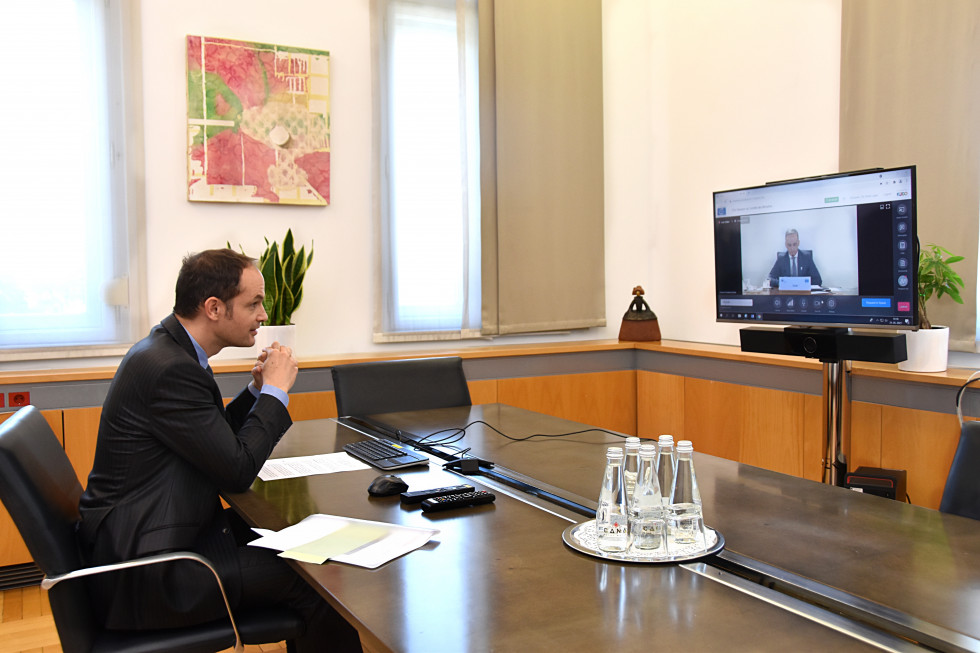 Minister of Foreign Affairs of Slovenia, Anže Logar took part in the virtual 131st session of the Committee of Ministers of the Council of Europe, under the German chairmanship of the Committee. The main topic of the ministers' discussions was the shared responsibility for democratic security in Europe. In his speech, Logar emphasized that the Covid-19 pandemic represents not only a health crisis but also a socio-economic crisis. The pandemic is testing and threatening the hard-won norms and standards of human rights developed and protected by the Council of Europe.
"Minister Logar emphasized at the outset that the world was witnessing widespread democratic setbacks, a weakening of the rule of law and a worrying trend of non-enforcement of judgments of the European Court of Human Rights. The Minister provided support to the Strasbourg Court and thanked the Secretary-General for her Strategic Framework. The Council of Europe must continue to reform and adapt to the new challenges following the pandemic: the protection of human rights, democracy and the rule of law. He supported the ministerial decision on human rights in the digital age and expressed his belief that the Council of Europe is a unique organization for setting standards for meeting the challenges of new technologies, especially artificial intelligence, in cooperation with others, such as UNESCO," Slovenian Ministry of Foreign Affairs announced.
He further emphasized Slovenia's commitment to effective multilateralism and diversified international cooperation at all levels (European, national, parliamentary, local and regional) to respond to the needs of our citizens. During its presidency of the Council of Europe, Slovenia will pursue its priorities with the Council of Europe in mind. "We want the Union to accede to the European Convention on Human Rights as soon as possible," Logar said.
At the meeting, the ministers also discussed the Secretary General's annual report on the state of democracy, human rights and the rule of law for 2021, the role of the Council of Europe in responding to conflicts and crises in Europe and ensuring the long-term effectiveness of the European Convention on Human Rights.