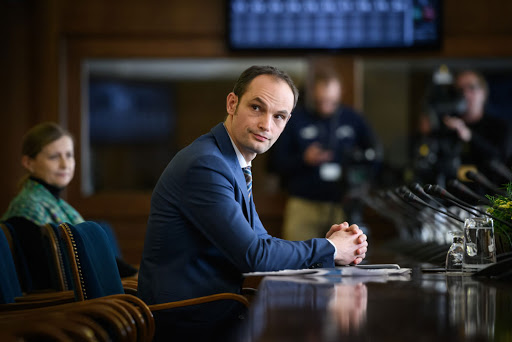 Slovenia Foreign Minister Anže Logar took part in a videoconference of the Three Seas Initiative on Tuesday, calling member countries for closer cooperation in the wider region of Central and Eastern Europe.
Logar, as STA reported, stressed the importance of the initiative as a forum of the countries' presidents and the increasingly important role of national governments in the operationalisation of integration in the region.
He said Slovenia supported further cooperation between institutions of the countries from the initiative and closer cooperation in the wider region of Central and Eastern Europe.
Touching on the preparations for the Three Seas Initiative summit to be held in Tallinn on 19 and 20 October, Logar called for a more proactive approach to the organising of a business forum on the sidelines of the summit, especially to help boost economic development in the region after the pandemic.
Founded in 2015, the Three Seas Initiative comprises of a dozen EU members from central and eastern Europe between the Adriatic, Baltic and Black seas – Austria, Bulgaria, Czechia, Estonia, Croatia, Latvia, Lithuania, Hungary, Poland, Romania, Slovakia and Slovenia.
Its goal is to encourage regional dialogue and connect the north to the south.
In May, Logar was appointed the contact minister for the initiative and Bojan Pograjc, state secretary in the PM's office, was named the national coordinator for the initiative.
The Government Communication Office stressed at the time that participation in the initiative was in line with the Slovenian foreign policy, which among other things envisages forging ties with groups and individual EU countries with similar interests, and strengthening of cooperation with neighbouring countries, Central European countries, and the US.
The host of last year's summit of the initiative was Slovenian President Borut Pahor. This year the summit was to be held in June but was postponed because of the coronavirus pandemic./ibna