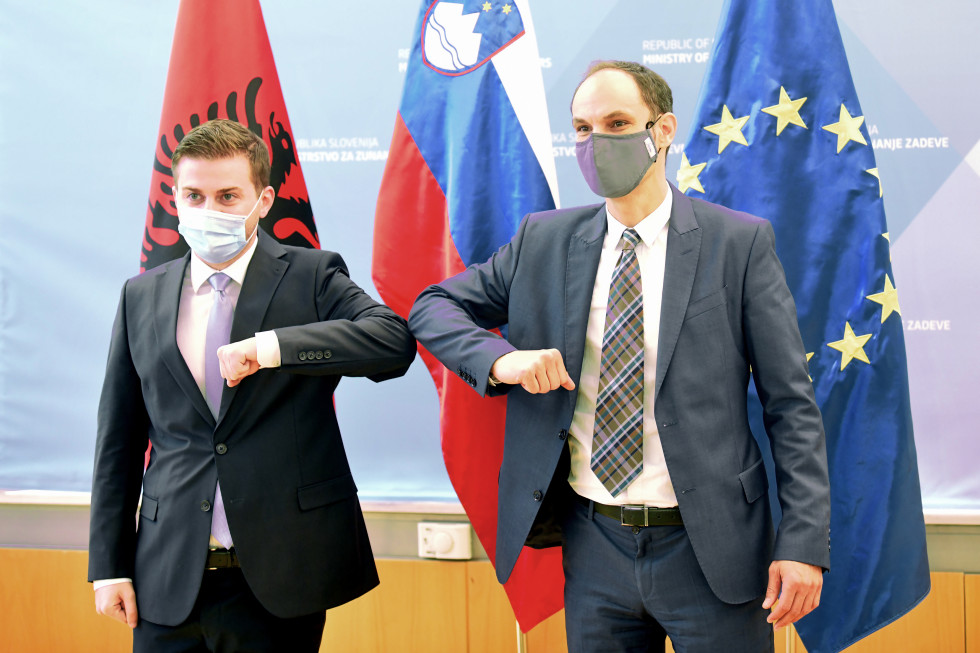 Slovenia's Minister of Foreign Affairs Anže Logar and deputy Minister for Europe and Deputy Foreign Affairs of the Republic of Albania Gent Cakaj, expressed satisfaction with the very good relations between the two countries and agreed that in the current situation it is necessary to show solidarity in addressing the economic and social consequences of the Covid-19 pandemic. Minister Logar expressed Slovenia's support for Albania's approach to the European Union.
The main topics of discussion between the two ministers in Ljubljana today were bilateral co-operation in all areas and Albania's rapprochement with the European Union. Minister Logar pointed out the very good cooperation between the two countries in the political field, and there are many opportunities for further strengthening of cooperation in the field of economy. The countries are also very at a very good level in development cooperation, with Slovenia devoting most of its resources to the field of progress in the implementation of efforts as member of the European Union.
The Slovenian Minister welcomed the decision to start Albania's accession negotiations with the EU, adopted by European leaders in March 2020. He emphasized the importance of continuing the implementation of reforms in the areas identified by the European Commission as a priority: electoral reform, judicial reform, public reform administration and the fight against corruption and organized crime. Minister Logar assessed that Albania's progress in the process of approaching the European Union is of key importance for the progress of the reform process and the political stability of the country, and thus of the region.
The interlocutors agreed on the need to show solidarity in addressing the economic and social impacts of the Covid-19 pandemic in the current situation. They welcomed the EU's response, which sent an important message of solidarity to the countries of the Western Balkans – and thus to Albania – in the form of financial support in dealing with the consequences of the pandemic.
Logar expressed satisfaction that Slovenia would make a donation to Albania to mitigate the effects of the devastating earthquake that hit the country last November. This is aid in the amount of 300,000 euros for the construction of a modular school in Albania, which Slovenia announced at a donors' conference in February in Brussels. The two ministers called for the school to be built as soon as possible.
Talks also focused on co-operation within multilateral organizations, with the ministers paying special attention to co-operation within the OSCE, which Albania is chairing this year, and co-operation within NATO. Logar congratulated Cakaj on the successful work that Albania is holding in the current challenging times to strengthen dialogue and cooperation with Member States.
The ministers also exchanged views and assessments on the current situation in the wider region and other current international topics. Logar stressed the importance of further constructive cooperation and strengthening regional cooperation./ibna