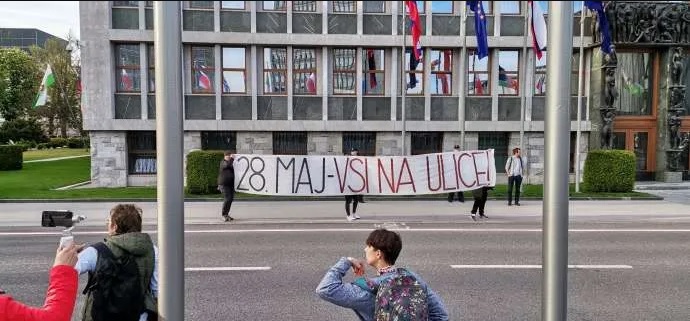 Anti-government Friday protests in the Slovenian capital Ljubljana continue, but the last of them raised several issues that Janez Janša must carefully answer. The first of them is to calm down the "leftists" to prevent the repeat of large protests a few weeks ago and the second is to calm down those who did not gladly accept the recent flying of the Israeli flag on the government building.
According to media, Friday's anti-government protesters gave the government a week to resign or face a massive "uprising" to push for an early election next Friday. The ultimatum was issued as the latest weekly "cycling protest" coincided with an event staged by a movement for the Slovenian Palestinian community with many of the protesters waving Palestinian flags.
According to a report by the news portal www.rtvslo.si, the protest, converging on the square in front of the parliament building, drew a crowd of a few hundred by unofficial estimates.
The pro-government media wrote that "Slovenian radical leftists again protested in front of the Slovenian parliament against the centre-right government of Janez Janša and demanded his resignation. They were joined by Palestinians living in Slovenia and asylum seekers from Palestine, who were angry that the Slovenian government had hung the Israeli flag on its building as a sign of solidarity with the attacked Israel. Slovenians were shocked that the Palestinians in the middle of the foreign country that accepted them dared to go crazy and turn the centre of Ljubljana, the capital of Slovenia, into an Islamic centre".
News portal demokracija.eu says that, shortly after the protest, several shots were fired in the front of the Jewish centre in Ljubljana. Nobody was injured, and the police still investigate the case.
The protesters announced that unless the government resigned, the protest on 28 May would be even more massive than the one staged on 27 April, which by police estimates was attended some 10,000 people.
"It's time for an early election! It's time to stop that train speeding into an abyss even before we start presiding the EU," reads the call issued by the group calling to protest.
They announced the protest next Friday would feature cycling protesters, trade unions, students, pensioners, young people, people from the academic and cultural spheres, environmental NGOs, marginalised groups, musicians and artists.