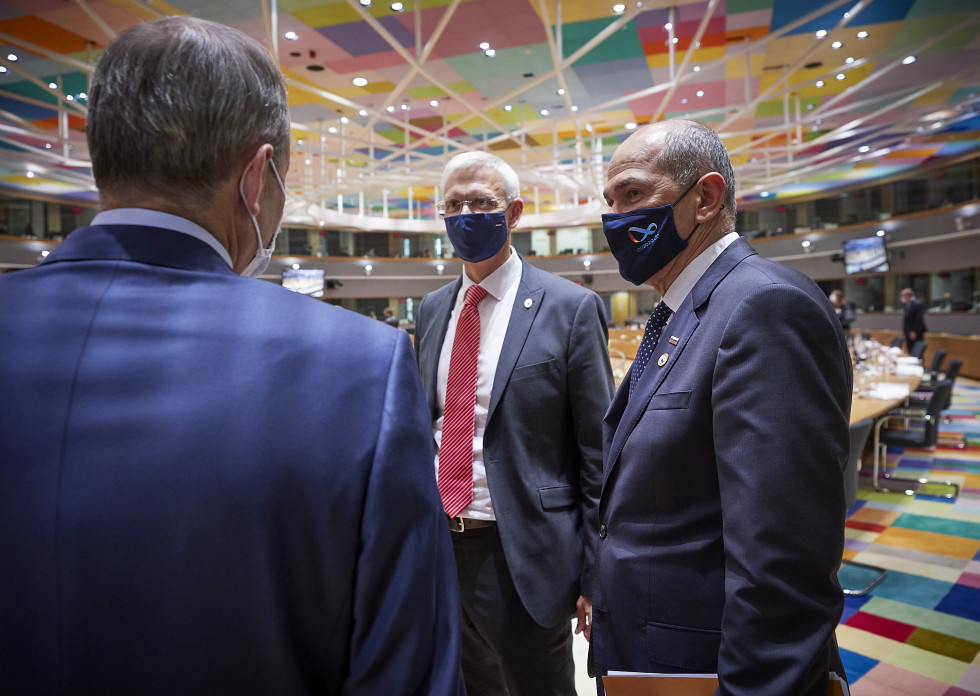 Today, after several days of negotiations, the European Council reached an agreement on a multi-year financial framework and a recovery instrument worth a total of EUR 1.824 billion. The agreement brings large additional funds for Slovenia, which will facilitate recovery after the COVID-19 crisis and encourage investment in the green and digital transition, Slovenian Prime Minister Janez Janša said on Tuesday.
"After Brexit, the European Union is different; the balance of power is different. New balances are being established and perhaps this has further contributed to the fact that it practically took four days to reach an agreement", Janša said in a statement.
He added that Slovenia welcomed the agreement reached on the multiannual financial framework and the recovery instrument. "It is a great achievement," the prime minister said, adding that it was also a great moment. "First, because in fact the total amount of funds for recovery and development in the coming years, especially in the first three years, is now sufficient. It is a strong response to the coronavirus crisis and this total also gives some optimism before autumn, when we all still have little fear of what will happen with the continuation of this epidemiological wave", Janša said. "On the other hand, both instruments are good also because we have achieved a fair distribution."
"Especially in this last part, our proposals were taken into account, as well as the proposals of others, which we sent to the European Council, the leadership and the Commission in the sense that the specifics of individual countries were taken into account, in the case of Slovenia, especially the problems of our western region which, according to the previous financial perspective, was threatened by a drastic drop in financial resources," the Prime Minister emphasized, noting that "we managed to provide additional transition funds with our maximum proposal, so that this envelope is large enough for the transition to be smooth", said Janša.
"Given the starting points we had, Slovenia has achieved a key strategic goal, ie we have reached an ambitious agreement, which is important not only financially but also psychologically. Slovenia has achieved all important negotiating goals, a very favourable share of funds in both instruments", the Prime Minister emphasized.
"If we talk about the general global financial position of Slovenia, the entire period of seven years amounts to 10.5 billion euros, of which six billion and 600 million are non-refundable funds, within which almost 3 billion euros are for cohesion policy and 1 billion and 600 million for the Common Agricultural Policy. Under the recovery instrument, we have another two billion and 100 million in grants and 3 billion and 600 million in loans", the Slovenian prime minister said.
He also assessed that, considering the situation, in terms of Slovenian statistics, and in terms of relative development, the outcome of the current negotiations, comparing all three previous ones, is the best when it comes to the multi-year financial perspective.
"Slovenia is still a net recipient of the European budget. We are sorry that we have not succeeded in these seven years since the last negotiations, but the view from the current situation we are in is positive and it is a success because it allows us in the next seven years to achieve the goal of the greater and faster development, largely with the help of financial resources from both instruments", the Slovenian PM concluded./ibna