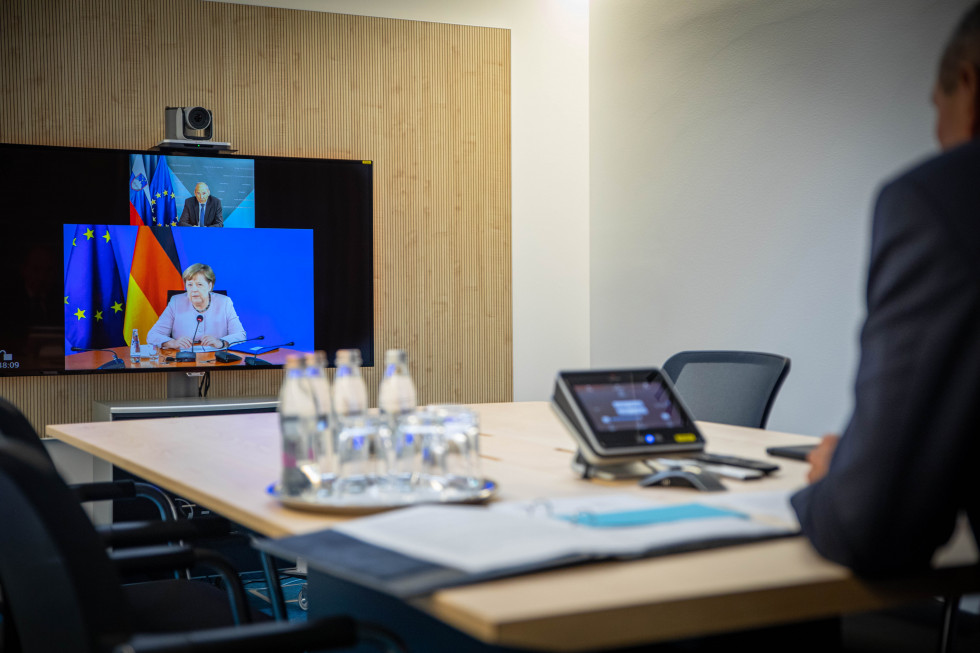 German Chancellor Angela Merkel, Portuguese Prime Minister António Costa and Slovenian Prime Minister Janez Janša spoke on Tuesday afternoon in a videoconference. The heads of government did not meet in person in Berlin, as was first envisioned, due to the coronavirus pandemic.
Based on their experiences from 2007, when they first worked together as a trio of presidencies, Germany, Portugal and Slovenia will once again hold the presidency of the Council of the EU for the next 18 months. On 1 July 2020, Germany will take over the six-month EU Council Presidency according to the principle of rotation, and it will be followed by Portugal in January 2021 and Slovenia in July 2021.
"The three countries have set out the common issues and priorities that they aim to address in this period. The common agenda has been adapted to the COVID-19 pandemic, emphasising the trio's goal to work together to quickly recover both economically and socially, thereby strengthening Europe's resilience," said the Slovenian Government in press release.
The three presiding countries firmly believe in the importance of democracy, human rights, the rule of law and the open models of society that are the basis of European freedom, security and prosperity.
At today's videoconference, the three leaders of government highlighted the need to learn from this crisis and prepare Europe for the future. They reaffirmed their commitment to building a stronger, more sustainably-oriented, competitive and more closely connected Europe, following the COVID-19 pandemic.
They agreed that the European Union and its members must find solutions to the social aspect of the crisis, to which the recovery of the European economy will contribute, and that they must treat the European Union's green and digital transformation as a priority, strengthen the strategic autonomy of the EU and its ability to deal with crises such as a pandemic or cyber-attacks. They confirmed that dealing with climate change and stimulating digitalisation in the EU with the aim of strengthening digital sovereignty will also be among their shared priority tasks.
To strengthen the role of Europe in the world, the three leaders reaffirmed their common goal of improving the European Union's ability to shape global politics, thereby supporting a rule-based multilateral world order and deepening its cooperation with key partners. Among other things, they emphasised the need to work together regarding the EU's relations with China and India, the future-oriented EU-Africa agenda and the continued cooperation with our transatlantic partners. They also highlighted the importance of the EU's expansion to the Western Balkans.
The mechanism of the trio presidency in the Council of the European Union is set out by the Lisbon Treaty. Each holder of the presidency works closely with the other two in order to ensure the continuity of decision making in the Council. When the first country assumes the presidency, a common agenda is published./ibna