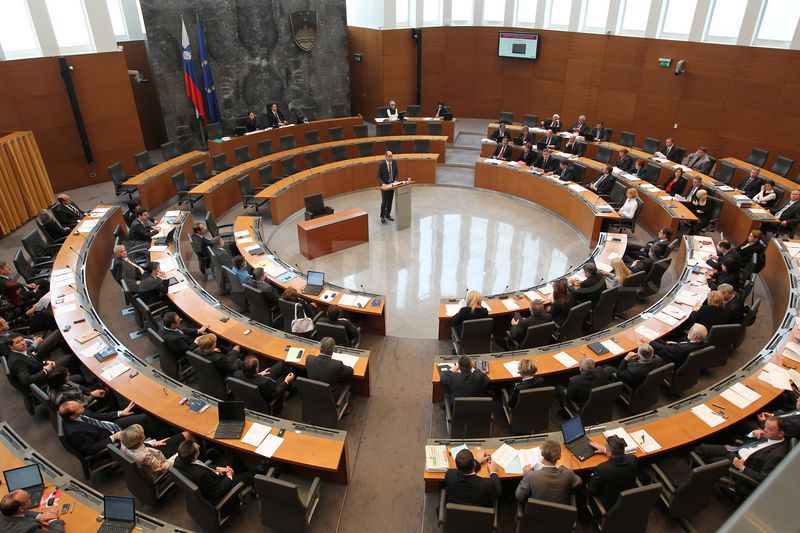 Janez Janša's government survived a motion of no confidence after only 40 MPs, six short, voted in favour in a secret ballot on Monday. There were seven votes against and six invalid ballots, whereas the majority of the coalition MPs abstained.
The motion was filed by five centre-left opposition parties which nominated Pensioners' Party (DeSUS) leader Karl Erjavec for prime minister.
Speaking after the vote, Erjavec said it was now just over a year to go until the next general election and that is when voters would get to decide whether this government had done a good job. "If not before, the time of truth will come when the next general election is held."
He stressed the people were dissatisfied with the coronavirus restrictions and the failure of cabinet members to adhere to the rules they themselves had instated.
While the ballot was secret and it is impossible to know how individual MPs voted, the vote results would suggest only one DeSUS MP supported the motion, reflecting a long-running rift between the party leadership and its deputy group.
Erjavec said DeSUS would remain in the opposition and he would now work on consolidating the party. He indicated that if any DeSUS MPs decided to ally with the coalition by signing a special cooperation agreement, they would remain MPs only as long as their current term lasts.
Janša took to Twitter to comment that the National Assembly had finally completed the tallying, determined that not even all members of the Constitutional Arch Coalition (KUL) were in favour of the motion.
The partners in his coalition emphasised that it was now time to continue working after needlessly spending energy on this motion.
Modern Centre Party (SMC) leader Zdravko Počivalšek tweeted: "Now we could at least try to join forces for the serious challenges before us. Let's overcome any hard feelings and create the foundations for a different politics."
New Slovenia (NSi) leader Matej Tonin said the outcome made it clear that the government was strong. "Our work is directed towards containing the spread of the epidemic, to provide accessible healthcare to all and to strengthen the economy." /ibna