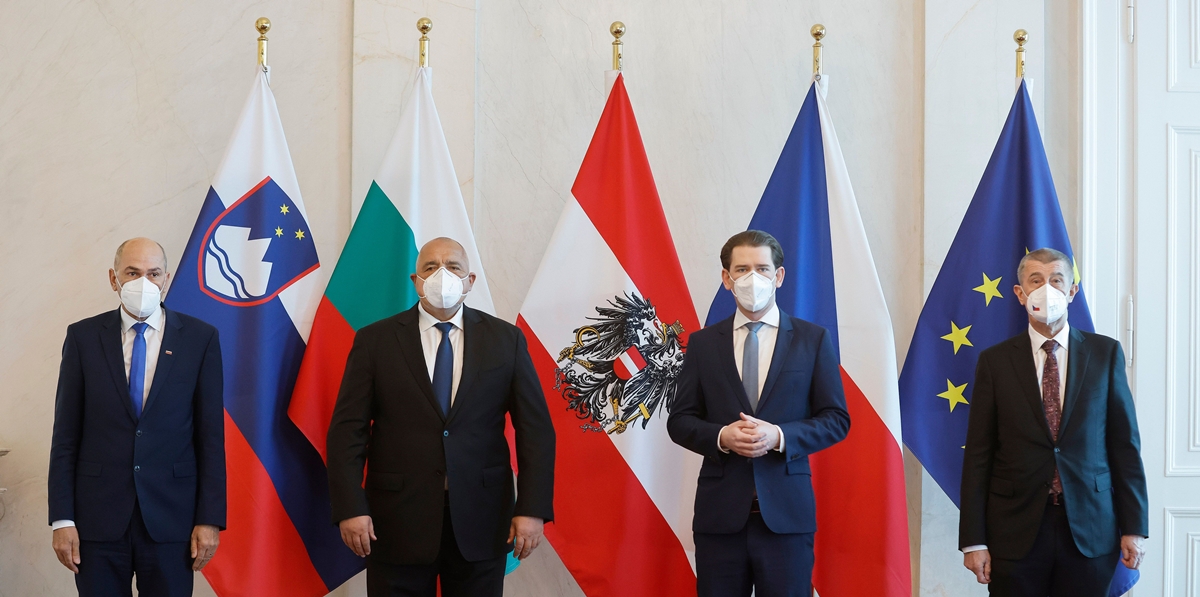 In order to compensate for the inequality in the delivery of vaccines, the EU should proceed with their distribution according to the population key and the correction mechanism, Austrian Chancellor Sebastian Kurz said after a meeting at the level of Prime Ministers in Vienna.
The meeting was attended by person by Kurz, Slovenian Prime Minister Janez Janša, Bulgarian Prime Minister Boyko Borisov and their Czech counterpart Andrej Babis. Latvian Prime Minister Krisjanis Karins and Croatian Prime Minister Andrej Plenković participated via a video link.
"It's not about finger-pointing," Kurz said. "There is a problem that needs to be solved." When ordering and distributing vaccines within the EU, it was agreed that vaccination would begin on 27 December 2020. Council President Charles Michel also assured member states that each country should receive vaccines per capita at the same time.
Malta quickly reached 27% of vaccinated population, while other countries were still at five. This unequal distribution and the accompanying gaps in vaccination coverage lead to tensions in the EU, the chancellor said. Kurz once again stressed that the Board of Directors is responsible for that. It was agreed with Commission President Ursula von der Leyen and Council President Charles Michel that a "repair" or a "correction mechanism" should be introduced.
"We have always believed in European solidarity," said Boyko Borissov. "The board of directors has introduced a different procedure," Borissov continued. He also appealed to the states not to purchase any Russian or Chinese vaccines. Borissov believes Von der Leyen and Michel did a good job, "but the unfair distribution happened at lower levels," the Bulgarian prime minister said. In May, some countries will have "herd immunity" while others are still waiting for vaccines.
Janez Janša talked about a "timely warning". In June, half of the countries will have a vaccination coverage rate of 30%, while the other half will be at 60%. Slovenia is above average in terms of vaccination, yet "We are not an island; no one can live well because the virus knows no borders."
Janša also advocated for publishing contracts with producers. It should not be a secret. "We want to avoid a new political crisis", stressing that this will be inevitable if the EU countries are supplied with vaccines in such an unequal way.
"It is true that the EU was looking for common solutions, but mistakes were made and that also caused tensions, "Jansa said.
He added that the EU has already ordered an additional 24 million doses of the vaccine. This is a way of dealing with inequality, instead of relying only on redistribution within EU countries. "Only when the pandemic is over will we know who was successful," Janša said, commenting on the success of the vaccination process in Israel. /ibna