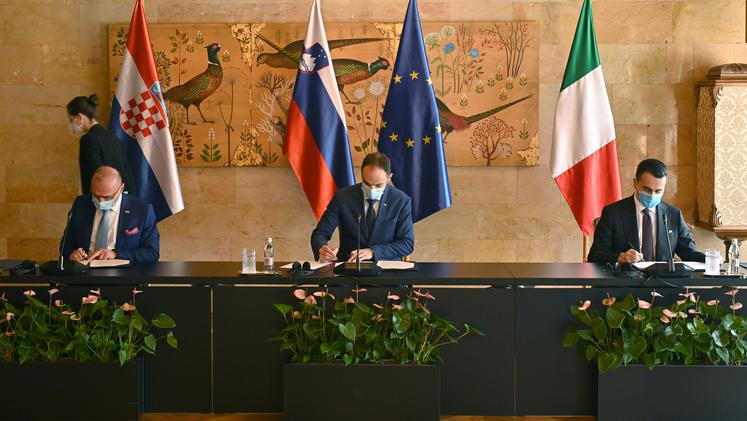 The Ministers of Foreign Affairs of Slovenia, Croatia and Italy, Anže Logar, Gordan Grlić Radman and Luigi Di Maio respectively, signed today in Brdo, near Kranj, a joint statement on tripartite cooperation in the northern Adriatic. As Minister Logar explained, the document represents the basis for strengthening cooperation in areas that are crucial for all three countries.
At the press conference that ensued, Minister Logar expressed his satisfaction over the completion today of the first phase of cooperation between the three countries in the northern Adriatic. "By signing the joint declaration, we have laid the foundations for strengthening mutual cooperation in areas that are crucial for all three countries," he stressed.
The Slovenian minister added that he and his Croatian and Italian counterpart were aware of the concrete proposals for co-operation, including enhanced co-operation between North Adriatic ports and joint promotion of the Adriatic waterway.
"The Adriatic Sea, as a semi-closed sea with a high density of maritime traffic and a very sensitive ecosystem, requires close cooperation of all three coastal states," stressed Logar, appearing optimistic about future cooperation. He added that all open issues were resolved at the time of the agreement on the joint statement.
The tripartite cooperation between the countries of the northern Adriatic began last year with the announcement by Croatia and Italy of plans to declare their exclusive economic zones in the Adriatic Sea. Zagreb and Rome also informed Slovenia of their intention who, in accordance with the decision of the arbitral tribunal, has no right to declare its exclusive economic zone.
Croatia already declared its zone back in February, while the procedure is still ongoing in Italy. By declaring their EEZs, the two countries will secure the right to build artificial islands on the Adriatic and use marine and wind energy. At a December meeting in Trieste, the three countries' foreign ministers adopted a joint statement on co-operation in managing the Adriatic, but did not sign it. The statement emphasizes that Slovenia, Italy and Croatia, as countries bordering the common sea, share the vision of the Adriatic Sea as a bridge that unites people in the region and as a source of prosperity for all.
At the meetings with Croatia and Italy, the Slovenian side emphasized that the planned declaration of the exclusive economic zones of Croatia and Italy must in no way prejudge the Slovenian rights under international and European law. /ibna