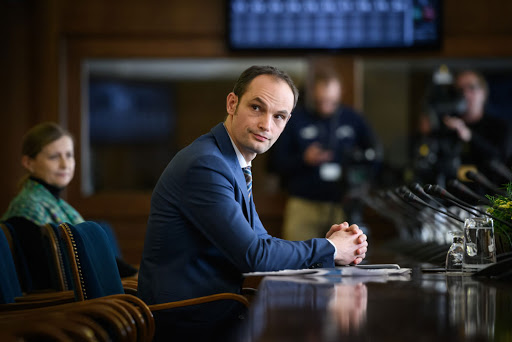 Slovenia Foreign Minister Anže Logar, who attended a session of the Foreign Affairs Council in Brussels, told that the EU's new migration pact was eagerly anticipated and that Slovenia would continue to oppose mandatory distribution of migrants, which the country made clear in June.
"We are anxious to see the proposed package, but it is difficult to comment on individual solutions before it is unveiled. We know roughly which way the solutions will go, but this is a very complex matter and the changes are very comprehensive, so I do not dare to comment any further at this point," Logar said after the ministerial meeting, responding to a journalist question about whether Slovenia was happy with the planed solutions.
According to STA, seven EU members, including Slovenia, addressed a letter to the European Commission in June, expressing their resolute opposition to compulsory redistribution of migrants among EU member states. The letter was signed by Slovenia, all four "Visegrad" countries – Hungary, Poland, the Czech Republic and Slovakia, as well as Estonia and Latvia.
Logar said today the letter made Slovenia's views very clear. "I think the arguments that Slovenia will use in this debate will go along those lines in the future as well," he said.
Asked whether Slovenia would support the new pact, he said that it was impossible to say exactly which way the debate would go at this point.
The new migration pact that the Commission will unveil on Wednesday is expected to be based on a mechanism of obligatory solidarity, which is to include transferring migrants in close connection with returning illegal migrants.
The new approach is said to be more flexible than the solutions which have been on the table so far and which member states failed to find common ground on.
The initiator of the new pact, European Commissioner for Home Affairs Ylva Johansson, has said that all 27 members states are ready to make concessions.
Logar agrees that a compromise will be found but he stresses it will be within the frameworks of what countries find acceptable.
The Slovenian foreign minister noted this package would be discussed during the German-Portuguese-Slovenian presidency. If no agreement is reached during Portugal's stint, Slovenia will lead the debate, so Logar discussed the matter today with his German counterpart and, on Sunday, the French foreign minister in Paris.
Asked about the upcoming report on the rule of law in EU countries, which the Commission is to release on 30 September, Logar said Slovenia was looking forward to the debate on the rule of law and would take active part in it, so that the bloc would have a credible, transparent and fair overview of the situation.
He added the EU's drawing up the report was a smart way of overcoming the impasse following alleged violations of the rule of law in Poland and Hungary./ibna