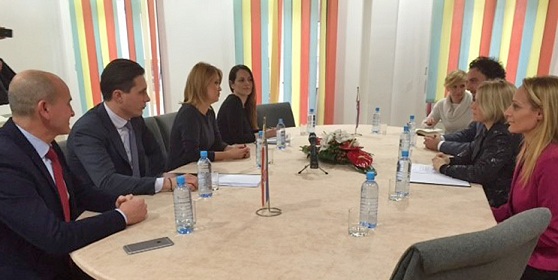 Zagreb, February 10, 2015/ Independent Balkan News Agency
By Marija Avramovic
Minister of Social Policy and Youth Milanka Opacic met on Monday with Slovenian counterpart Anja  Kopac Mrak, and talked about the model of 'A New Beginning', or debt relief for the poorest Croatian citizens who have been blocked for more than a year.
Due to the fact that in Slovenia there is The Law on personal consumer's bankruptcy, the Slovenian Minister was especially interested in the voluntary contractual model of writing-off the debts of the very poor, and the modalities of the agreements between the Croatian government and creditors (local governments, banks, telecommunications companies and public companies).
The two ministers discussed the system for checking which citizens qualify for entry into the category of debt relief, and the computerisation of data, but special emphasis was placed on social responsibility and on a one-time basis of these measures.
On Monday, Minister Opacic signed an agreement in Pula on debt relief for the socially vulnerable citizens with all Istrian mayors.
Saying that so far 10,500 Croatian citizens have obtained a certificate to qualify for debt relief, Opacic expressed satisfaction with the way this project was developing.
She stressed that it has only been a week, and that in only five working days 10,500 citizens obtained a certificate from financial agency FINA, although there were many more who came to check whether they fulfill the conditions for being in the registry for writing-off the debts.
Requests for writing-off the debt may be submitted from February 2 to June 30, 2015. Citizens who are eligible to have their debt reduced are those whose account have been blocked for more than a year, ending September 30, last year.
"Croatia is not the only country that has problems with the socially vulnerable and people who are blocked with unpaid debts. Voluntary basis, which is a big advantage of this Agreement, is extremely important", government's vice president Opacic pointed out just before the meeting with Minister Kopac Mrak in Umag.