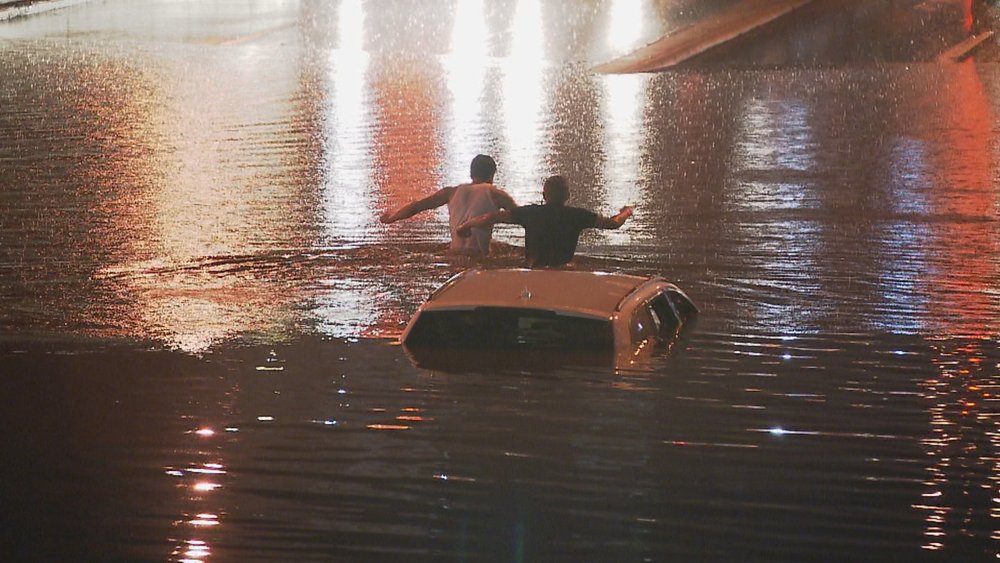 After a calm September, which on Wednesday was marked by the sun and very high temperatures in the afternoons, the weather in Slovenia last night showed its less pleasant side. In the late afternoon, northeastern Slovenia was hit by local storms with heavy rains and torrents, during which more than 50 litres of rain per square meter fell in a short time, and even more, violent weather events moved over central Slovenia in the evening, even over the capital Ljubljana where such a heavy downpour has never been seen in a 160-year history of meteorological measurements, 24ur.com write.
According to the Environmental Agency of the Republic of Slovenia (Arso), 96 litres of rain fell at the meteorological station behind Bežigrad between 9 pm and 10 pm, and a total of 122 litres of rain per square meter, which exceeds the 250-year record. Prior to that, the worst downpour in Slovenia capital was measured on August 11, 1951, when 62 litres of rain per square meter fell in one hour, and the maximum 5-hour rainfall was recorded on October 22, 2014, namely 113 litres per square meter.
The Administration for Protection and Rescue of the Republic of Slovenia reports that the Ljubljana regional centre received more than 2,700 calls from citizens between 8 pm and midnight. It flooded more than 500 buildings, as well as roads, parking lots and underpasses, and several personal vehicles got stuck in the high water. Ljubljana firefighters announced that they had intervened in 364 reported events by 6 am.
As 24ur.com forecaster Rok Nosan explains, a combination of unstable atmosphere and weak wind, which blew in the lower layers of the atmosphere (up to a height of about 2000 meters) from the northeast, and in higher-level from the west, led to the formation of such violent storms. Namely, a weakened cold front was moving across Slovenia in the late afternoon and evening yesterday, and the weather was also slightly affected by a small altitude cyclone, which was moving northeast across Central Europe. As a result, the wind shear above Slovenia has increased, which we talk about when the wind changes direction and speed with altitude. Due to weak high-altitude winds, fortunately, the storms did not cover larger areas, and the front also weakened as it moved towards the south of the country, so that in many places in Primorska, Dolenjska and Bela Krajina there was only a sample of rain.
A new change in weather, according to his forecasts, can be expected on Sunday, when the periphery of a very deep and extensive cyclone centred near the British Isles will come. As a result, the southwest wind will strengthen, bringing very warm and moisture-saturated air above the Mediterranean Sea. In the hilly world of western Slovenia, it will rain occasionally on Sunday morning, and a few drops of rain will be able to reach central Slovenia in the afternoon. This will only be an introduction to the very unstable weather at the beginning of next week when citizens can again expect storms with longer showers.
Source: 24ur.com