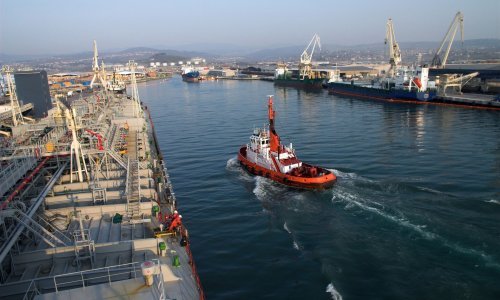 A cargo ship owned by a Greek ship-owner, which will deliver a load of iron ore from South Africa on Tuesday night, will be anchored in the middle of the Bay of Koper. A medical team will then be sent aboard to perform epidemiological tests or swabs, which will make it clear how many members of the 32-member crew are positive for the new coronavirus. Only then will they be able to decide how to proceed.
The ship of the Greek ship-owner with the crew, which includes most Filipinos and several Greeks, will be stopped at anchor in the bay and will not be lowered at the port terminals for unloading, which is otherwise fully mechanized. Once the test results are known, the authorities will decide whether to unload the iron ore cargo or not. If only a small part of the crew is positive on the test, the ship will be allowed to enter the Port of Koper. The National Institute of Public Health has already prepared an appropriate protocol of conduct that "coordinates with key stakeholders".
If most of the crew is infected, and a large part of the members have serious symptoms, and the ship cannot continue sailing, the Ministry of Foreign Affairs will have to find a way to change the crew and return the infected members to their countries. If someone needs hospitalization, of course they will get it.
The cargo ship does not pose a danger to public health, because the inhabitants of Koper will not have contact with the ship anchored in the middle of the bay. Authorities do not want to reveal which ship it is, because they are afraid of the lawsuit of its owner; they do not want a media quarrel about the ship and the infected crew, because he is afraid of false news that could harm the business. Therefore, its representative in Slovenia has already announced the use of all legal means to protect the interests of ship-owners./ibna