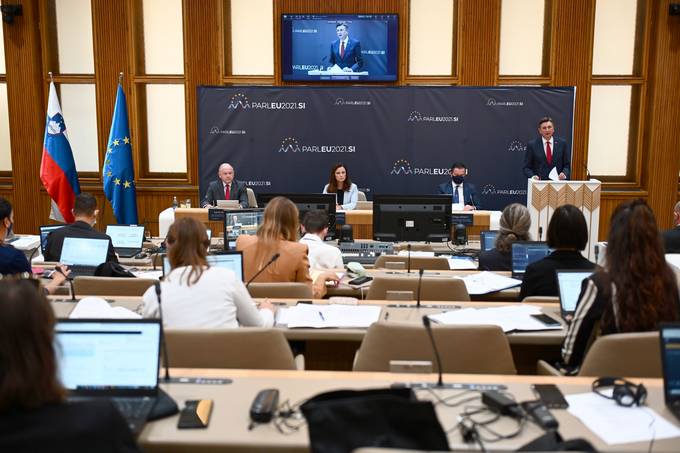 An inter-parliamentary conference on the EU's common foreign and security policy organised as part of the Slovenian EU presidency on Thursday heard calls for a united and active approach by the bloc to global challenges.
National Assembly Speaker Igor Zorčič said that no single member state had the ability to tackle global issues such as terrorism or pandemics alone.
National Council President Alojz Kovšca said a common response to crises was also an expression of solidarity between member states.
As media reported, Slovenian President Borut Pahor highlighted the importance of the EU reacting fast and effectively. He added that this was possible only if integration deepens and the EU's autonomy is strengthened. "If the EU remains merely a community of nation-states, its power and attractiveness will wane".
According to Pahor, the EU has a responsibility to mitigate conflicts around the world. Afghanistan is one such conflict and it poses one of the greatest challenges to the bloc's common foreign and security policy.
Josep Borrell, the EU's high representative for foreign and security policy, agreed that the Afghanistan crisis could be a catalyst that makes the bloc's foreign policy stronger.
Borrell stressed that the EU would not recognise Afghanistan's new government, but said it was nevertheless necessary to engage in talks and coordination, in particular about humanitarian aid since Afghanistan is facing a "humanitarian crisis of Biblical proportions".
Both Pahor and Borrell said the EU's strategic resilience had to undergo broad-based improvement in terms of stronger defence and cybersecurity capabilities, digital autonomy and security of the critical infrastructure.
The hybrid conference features delegations of parliaments from the EU, member states and NATO members. The conference also includes panels on the bloc's foreign policy priorities, the role of the EU's foreign policy in a multipolar world, and regional partnership with the Western Balkans.