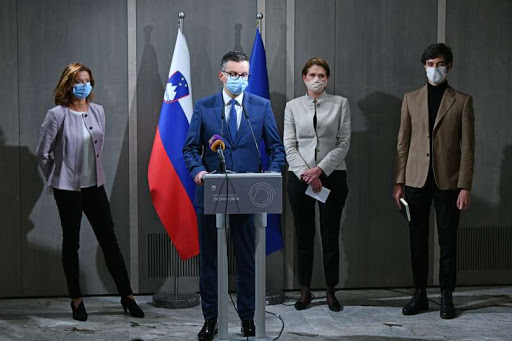 Centre-left opposition parties in Slovenian Parliament have asked for an emergency session to discuss their motion to impeach PM Janez Janša. This demand comes after the parliament met for a regular session today to discuss the motion and a number of bills, but the plenary was suspended after the MPs failed to confirm the agenda in a 42:42 vote.
The centre-left Marjan Šarec List (LMŠ), Social Democrats (SD), Left and Alenka Bratušek Party (SAB) see today's vote as proving the ruling coalition no longer has a majority.
The voting against the plenary's agenda was a form of protest and pressure to force the decision for snap elections while pointing to the still not fully resolved representation of opposition and coalition MPs in working bodies after four coalition MPs went independent at the end of March.
LMŠ head Marjan Šarec said that this government "is doing everything to stay in power, instead of doing what is normal in normal democracies, to go to elections for people to decide whom to give their voice and who should lead the country in the future".
According to Slovenian media, the centre-left opposition joined forces to prevent the votes on bills that have been endorsed on the committee level in recent weeks after the group of four unaffiliated MPs were denied the right to vote on the committee. Hence, the laws are illegitimate, Šarec argued.
With the regular plenary off the agenda, the four parties filed the request for an emergency session to vote only on the impeachment motion.
"The vote will be an opportunity for all MPs to decide whether they support what we witnessed today, or muster the courage to go to the elections," said Šarec.
Similarly, Janja Sluga, head of the group of independent MPs, said the opposition had opted to vote against the plenary's agenda over flawed relations in working bodies.
She argued that the committees in which opposition had endorsed most of the bills or independent MPs were not adequately represented.
Meanwhile, Matjaž Han, the leader of the SD deputy group, said it was high time party leaders agreed on the date of an early election, which he believes should be held after the Slovenian EU presidency.
He said he was aware the opposition would probably not muster the 46 votes needed to impeach the prime minister.