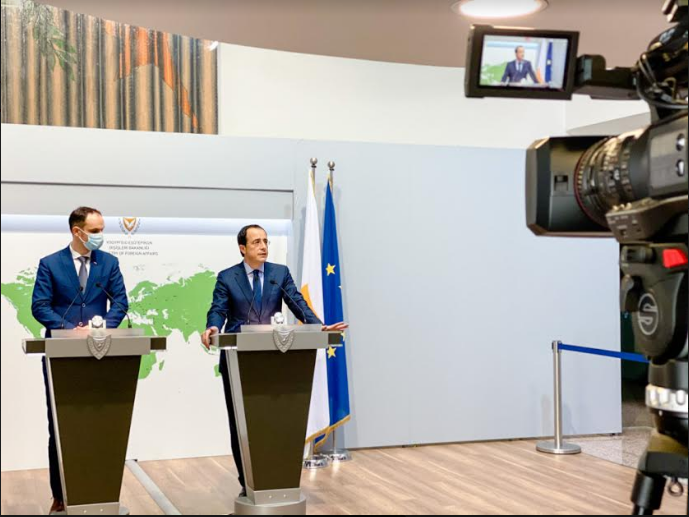 Slovenian Foreign Minister Anže Logar visited Cyprus over the weekend, where had meetings with his Cypriot counterpart Nikos Christodoulides, President Nicos Anastasiades and Speaker Adamos Adamou.
Logar presented to his interlocutors the basic elements of the priorities of the Slovenian Presidency agenda of the European Union Council. Under those circumstances marked by the coronavirus crisis, in its chairmanship Slovenia will largely focus on measures to mitigate its economic, financial and social consequences and on efforts to strengthen the Union's resilience in crisis management and cybersecurity. It is also important for the forthcoming presidency to exchange views in other fields, including European solidarity.
At his meeting with Cypriot FM Christodoulides, bilateral ties, EU issues, the Cyprus issue and Slovenia's desire to join the MED7 topped the agenda with Logar highlighting the need for cooperation among small and Mediterranean countries.
Christodoulides said Cypriot-Slovenian ties were excellent and had grown stronger in recent years, highlighting cooperation in the fields of tourism, education, culture, business and trade.
According to the Cypriot Minister, Logar briefed him on Slovenia's intention to join the group of seven Mediterranean EU countries (MED7) currently comprising Cyprus, Greece, France, Italy, Malta, Portugal and Spain. Christodoulides reassured that Cyprus fully supports the idea.
Logar characterized the talks as excellent and noted that small Member States should cooperate in areas of shared interest that may not be as important for larger countries. He said Slovenia wanted to join the MED7 because, like all Mediterranean countries, it wishes to have a stronger say in tackling common issues.
The Slovenian minister also presented the priorities of Slovenia's EU presidency and promised Slovenia would strive to achieve comprehensive solutions on new asylum and migration legislation in the EU, one that would consider frontline countries such as Cyprus.
The issue of the divided island was also discussed, as the Cypriot foreign minister stressed that everyone should refrain from any unlawful actions and provocations that might jeopardise efforts to reunite the island.
Christodoulides said Logar understood that the key was to achieve a comprehensive solution in line with the UN resolutions and the EU law, values and principles. He stressed a reunited Cyprus had to be a working, stable, modern European country.
The Slovenian Foreign Ministry stated in a press release that the visit aimed to "maintain good relations with Slovenia's natural partner and strengthening cooperation with countries in the Mediterranean."
The Ministers identified opportunities for closer cooperation in areas of common interest, as the two countries share membership in the European Union, as well as the same European values ​​and coastal location. It is also important for economic cooperation between the two countries to be strengthened, as Cyprus' direct investments in the Republic of Slovenia represent an important share of total investments from abroad. /ibna