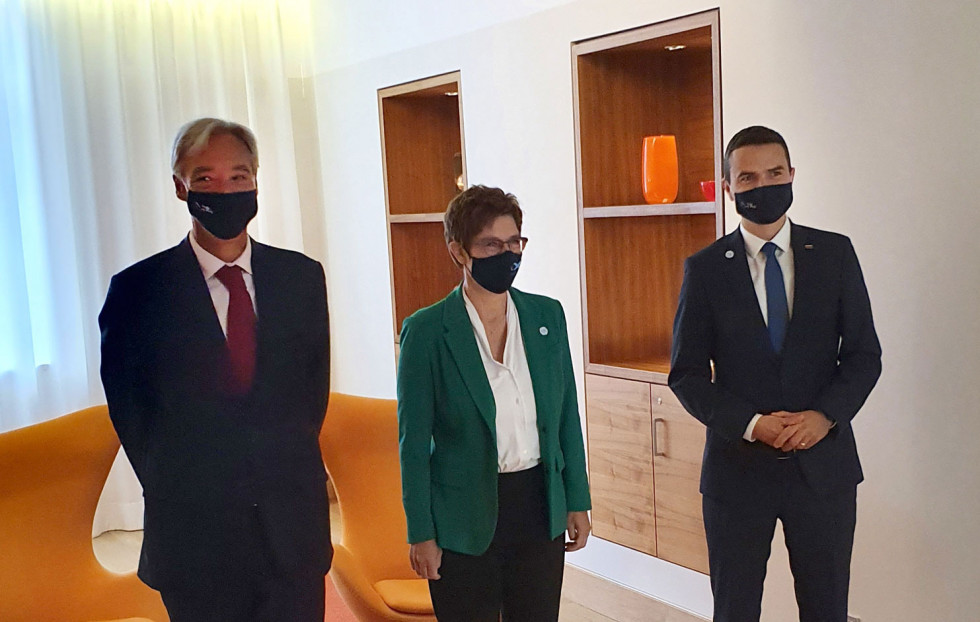 On the sidelines of the informal meeting of the EU Defense Ministers in Berlin today, Slovenian Defence Minister Matej Tonin met with his German and Portuguese counterparts, Annegret Kramp-Karrenbauer and Joao Gomes Cravinho respectively.
Slovenia, together with the Federal Republic of Germany and Portugal, forms the so-called "troika" of countries, which participate in an 18-month program with common themes and long-term presidency goals
The German and Portuguese Ministers of Defence, Annegret Kramp-Karrenbauer and Joao Gomeso Cravinho, accepted the initiative of the Slovenian Minister of Defence Matej Tonin to hold regular meetings during the presidency, which will enable closer integration and mutual coordination. The Minister then discussed the participation of third countries in the framework of permanent structural cooperation (PESCO – Permanent Structured Cooperation) and joint cooperation in the implementation of the newly created instrument of the European Peace Fund (EPF) and the Strategic Compass.
"At the level of the Ministry of Defence, three main priorities for the period of the Slovenian presidency in the second half of 2021 have been identified so far, but will be subject to additional harmonization of the final results and goals in the future. These areas comprise the Western Balkans (strengthening dialogue and greater involvement of the Western Balkans in joint security and defence policy initiatives), improvement of cooperation between the EU and NATO in the fields of cyber security, hybrid threats and military mobility, and improvement of the energy efficiency of the defence system", the Slovenian Defence Ministry notes in a statement.
Following the trilateral meeting, Defense Minister Matej Tonin attended the ministerial meeting of a group of 21 countries participating in the Concept of Leading States under the leadership of Germany. The concept focuses on strengthening NATO's European pillar by creating larger formations composed of national contributions that complement Germany's nuclear capabilities. The discussion was based on the Fourth Progress Report, which places greater emphasis on creating a high-alert force, especially for participation in the NATO Response Force. Slovenia joined the group in June 2018 and participates in the CBRN (nuclear-radiological-chemical-biological defence) cluster and the Multinational Aviation Group, and is also exploring the possibility of participating in other clusters, as it seeks to raise its defence cooperation with Germany to a higher level. /ibna