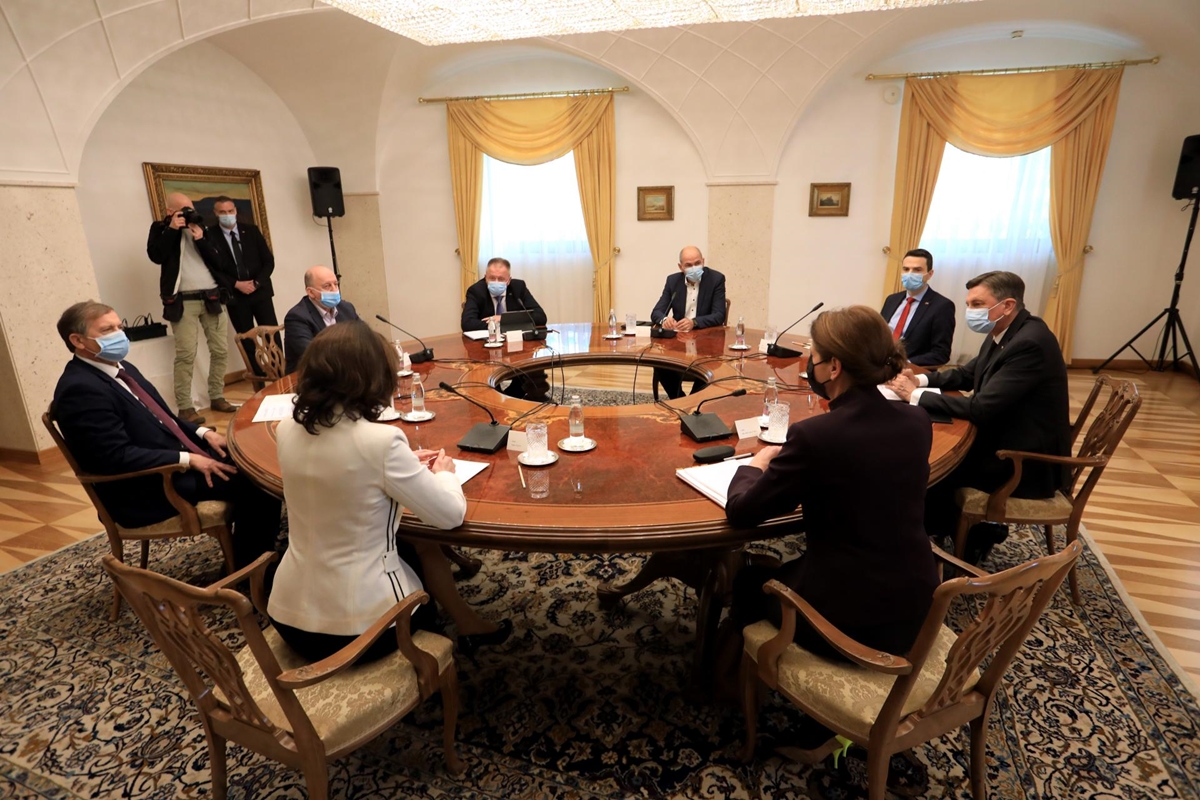 Αt a meeting in Brdo near Kranj on Wednesday, the leaders of Slovenia's parliamentary parties and parliamentary groups, Health Minister Janez Poklukar and an expert medical group, along with President Borut Pahor debated on the strategy to fight the epidemic and on emergency amendments to the healthcare system.
"Today we gathered in Brdo near Kranj as political leaders and professionals who have been entrusted to successfully terminate the health crisis as soon as possible, in everyone's best interests," said Slovenian President Borut Pahor after almost four hours of consultations, announcing that they would meet again "in a month, and maybe sooner. The maturity of Slovenian politics in this situation can be assessed by how and to what extent the stakeholders are able to focus on the most important issue of the time, and that is overcoming the health crisis and recovering from it," Pahor said, adding that there are other issues that, despite this situation, cannot be removed from the agenda. He assessed that what emerged from the meeting was consensus that searching for solutions together would yield better results for everyone.
Health Minister Janez Poklukar said that the meeting highlighted the diverging opinions among political parties, but was nonetheless constructive and that efforts had been made to achieve the best possible control over the epidemic. "We talked about a third imminent wave," he said, adding that the NHS capacity is a limitation that dictates the containment of the epidemic.
Considering the relaxation of measures is simply not possible, Poklukar said. "Today, the experts called on politicians to take a unifying stand in the fight against the epidemic and, in case of difficult situations, to show a common position attitude that can be understood by the general public," he continued. As he said, they agreed to hold such meetings once a month, but also more often in the event that the situation worsens.
"The purpose of the meeting is to exchange opinions and views on key issues and measures important for a successful strategy to deal with the COVID-19 epidemic, including possible proposals for urgent systemic changes in the NHS," the president's office announced.
As in February, representatives of the LMS and the Left did not attend this conference. "Since the last conference you organized a month ago on Brdo near Kranj, nothing has changed with regard to the government's work. The administration led by Prime Minister Janez Janša continues to undermine the democratic structure and its institutions on a daily basis. The war against the media continues; he attacks the Constitutional Court, denies citizens the basic right to freedom of expression and protest, and more, yet you remain silent," Luka Mesec, director of the Left, claimed yesterday. /ibna