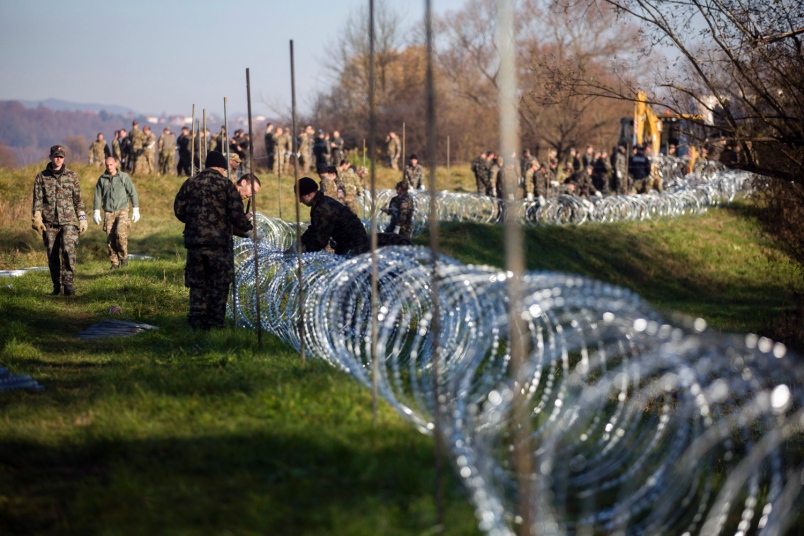 Ljubljana, November 12, 2015/Independent Balkan News Agency
The Slovenian authorities have started raising a fence in the vicinity of the tiny Gibina border crossing in the east and near the village of Rigonce, which used to be the main entry point for refugees entering the border on foot.
The area near Rigonce and the village of Veliki Obrež, where the fence is being put up, has been sealed off by police.
From the Croatian side Slovenian troops were seen unloading and uncoiling razor wire and building a 2-metre fence along the Sotla river, which roughly marks the border.
Many refugees crossing the border in the nights before Slovenia and Croatia agreed on rail transport tried to cross the narrow but deep river, getting completely wet in the cold nights.
The mayor of Gibina, Stanko Ivanušič, told the STA that the locals accepted the fence with understanding, as they believe it will make it easier to control the refugee flow.
There is information that the Slovenian government is planning to start constructing similar fences in the area of Zavrč and the nearby hilly area of Haloze, but so far no such action has been taken.
The government will hold a press conference in the afternoon to provide more information about the work taking place on the border with Croatia. Meanwhile, the police said that all border crossings with Croatia were open.
Prime Minister Miro Cerar briefed coalition partners about the development before leaving for a EU-Africa summit in Malta in the morning.
Simona Kustec Lipicer, the deputy group leader of the ruling Modern Centre Party (SMC), said that although Slovenia was putting up technical barriers, this "should not be understood as the erection of barbed wire".
Source: The Slovenia Times