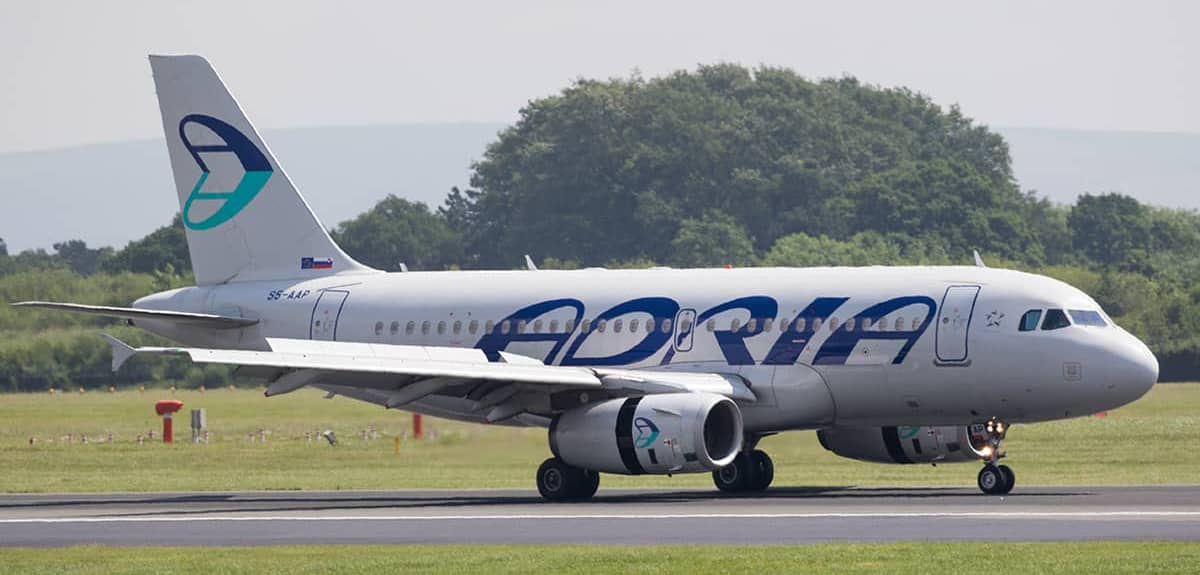 Airline Adria Airways creditors have reported a total of EUR 151 million in claims to the bankruptcy estate of the company, which has been in receivership since last October. However, the official receiver has admitted only EUR 87.7 million in claims, while he valued Adria's bankruptcy estate earlier this year at EUR 6 million.
Official receiver Janez Pustatičnik accepted secured and unsecured claims by legal and physical entities to the tune of EUR 72.6 million, shows a list of examined claims he published on the website of the Agency for Legal Records (AJPES).
Claims by former employees for unpaid wages – Adria had more than 500 workers – amount to EUR 15.1 million. The majority are priority claims.
Former CEO Holger Kowarsch has EUR 67,600 in claims and Sven Kukemelk, who ran Adria's flight school, EUR 47,700.
The highest claim – EUR 6.6 million – is that of the German airline Lufthansa and its Austrian subsidiary Austrian Airlines (EUR 3.1 million).
The US's Aerocentury has EUR 4 million in unsecured claims (but EUR 37.5 million was disputed) and Rolls-Royce Corporation EUR 2.1 million.
A right to separate settlement due to a lien has been recognised to the company 8900973 Canada Ltd (EUR 3.6 million), Bank of America Merrill Lynch (EUR 1.3 million) as well as to Ireland's EIC Aircraft Leasing (EUR 195,000) and Sasof III Aviation Ireland (EUR 106,000).
The two Irish companies also have EUR 4.3 million and EUR 1.6 million in unsecured claims, respectively.
Fraport Slovenija, the operator of Ljubljana airport, has a right to separate settlement for EUR 4.2 million and another EUR 255,000 in unsecured claims. Intesa Sanpaolo bank has meanwhile EUR 4.5 million in conditional claims.
There are also several airports that have had their claims admitted, the highest being EUR 1.7 million claimed by Tirana's airport.
Darwin Airlines, a Swiss regional air carrier bought by Adria after the latter was taken over by the German fund 4K Invest, has a claim of EUR 455,000.
The claim of Eurocontrol, the European organisation for the safety of air navigation, is EUR 2.1 million.
FURS, Slovenia's revenue service, has EUR 162,000 in priority claims and EUR 139,000 in unsecured claims.
The country's health and pension insurance funds, ZZZS and ZPIZ, have EUR 58,000 and EUR 367,000 in priority claims, respectively.
In February, Pustatičnik said Adria's bankruptcy estate was worth EUR 6.2 million, of which EUR 3.1 million stemmed from the title to its office building at Ljubljana airport.
The state sold Slovenia's flag carrier Adria Airways to the German turnaround fund 4K Invest in 2016 for EUR 100,000 after recapitalising it with EUR 3.1 million.
The new owner was unable to give it a fresh impetus, so Adria was grounded at the end of September 2019 after almost 60 years since its establishment, and filed for receivership.
Last March, the official receiver selected an auditor to audit Adria in order to examine the possibility of claiming damages from its former leadership. The police are meanwhile investigating abuse of office and fraud./ibna