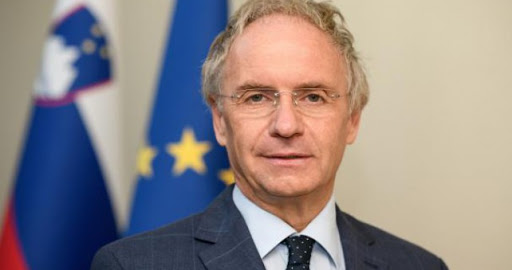 Slovenian interior minister Aleš Hojs has resigned, following allegations regarding his involvement in the suspicious purchase of respirators at the onset of the coronavirus pandemic. The resignation was confirmed at a press conference.
Hojs took to Twitter to announce that the resignation letter has been submitted to prime minister Janez Janša, adding that he has also informed Janša about receiving and accepting the resignation of the Police Commissioner, Anton Travner.
Hojs pointed out that he was stepping down, because his powers as cabinet minister and the existing legislation do not allow him to work effectively towards depoliticising and transforming the police force.
State broadcaster RTV Slovenija reported that Jansa has accepted Hojs's resignation.
Earlier on Tuesday, Slovenia's State Prosecutor's Office launched house searches at several locations, including the residence of economy minister Zdravko Počivalšek, as part of an ongoing investigation into eight million-euro worth of deals for medical respirators signed between the government and local firm Geneplanet, in an effort to assist hospitals in treating coronavirus patients.
News daily Delo quoted Hojs during a news conference on Tuesday, stating that the house searches were politically motivated, and therefore he was assuming the political responsibility for them by submitting his resignation.
Some Slovenian media report that the Minister of Economy, Zdravko Počivalšek, was arrested due to embezzlement in the procurement of medical equipment, but this has not been confirmed. Criminal investigators from the Slovenian Police Agency (NPU) are conducting searches into procurement disputes. Facilities at 11 addresses, including the Institute for Commodity Reserves and the Ministry of Economy, are expected to be searched by the end of the day. An eight-million-euro contract for the delivery of medical respirators concluded through Geneplanet is being investigated.
According to the Necenzurisano portal, the suspects include Počivalšek and Andrej Potočnik, a member of Počivalšek's party and a former member of the Slovenian Parliament, who operatively participated in agreements with suppliers of medical equipment.
The suspects reportedly committed a crime which allegedly caused significant damage to public finances. As a result, they face prison sentences of one to eight years.
The criminal investigation led by the Specialized State Prosecutor's Office began two months ago, following reports carried out by the show Tarča on Television Slovenia. An audio recording was played, in which Minister Počivalšek can be seen demanding that the employees of the Institute transfer eight million euros to the Geneplanet account in advance. /ibna