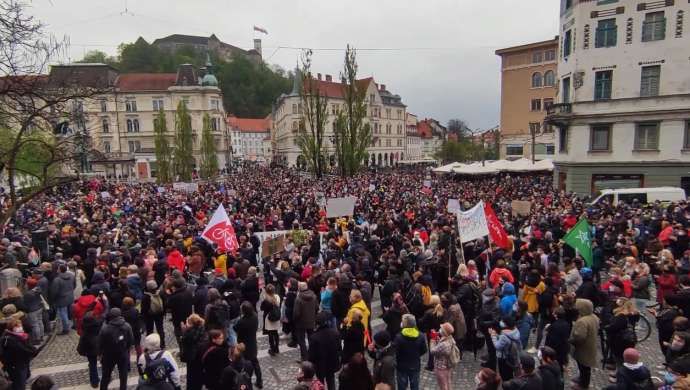 On the day when Slovenia celebrated Resistance Day, remembering the uprising against the occupying Nazi regime in WWII, April 27, several thousands of citizens resisted bans introduced due to coronavirus pandemic and gathered on the centre of the Slovenian capital, Ljubljana.
Protesters walked their way through the centre of Ljubljana, stopping in front of the Government Palace, Presidential Palace and Parliament House. The rally, which started in Prešeren Square, was organised by the same leftist activist groups that have staged weekly anti-government demonstrations since last spring and were timed to coincide with Resistance Day.
One of the organisers, a Facebook group called Popular Protest Assembly, said the rally was a call for "freedom, democracy, rule of law and the immediate resignation of Janez Janša and new elections".
It said this year's Resistance Day was "dedicated to the new united front" which is fighting repression and "reign of terror". The government was accused of having mounted attacks on groups including cultural workers, media, NGOs and intellectuals.
Several speakers appeared, including Živa Vidmar, the daughter of Liberation Front founder Josip Vidmar, journalism professor Sandra Bašič Hrvatin, criminal law expert Dragan Petrovec, environmentalist Uroš Macerl and poet Boris A. Novak. Choirs sang Partisan songs of resistance.
As STA Agency reported, protesters wore banners with slogans including Janšism = Fascism, Youths Care, People Have the Power, slogans in favour of the protection of drinking water, and flags with bicycles, which have become the symbol of anti-government protests.
The group then made their way to the square in front of Parliament House past the Government Palace and the Presidential Palace. Speeches were delivered at all the locations.
Such protests have been held for a year and were a weekly occurrence through autumn when a lockdown was imposed. They started again last week after restrictions were eased.
Police said in advance of the protest on Tuesday afternoon they would monitor the gathering and compliance with restrictions. There were no immediate reports of any altercations with the police.
The current rule is that up to ten people may gather, with ten square metres per person a minimum requirement. Social media live streams indicate distancing was not observed and, although most were wearing masks, many were without them.