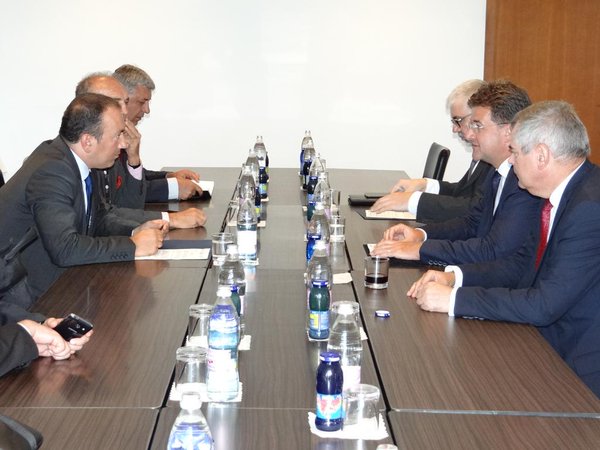 Sarajevo, November 9, 2015/Independent Balkan News Agency
By Mladen Dragojovic
The foreign ministers of the Slovak Republic and BiH, Miroslav Lajcak and Igor Crnadak, concluded at the meeting that was held on Monday in Sarajevo that BiH has made significant steps forward on the path towards European Union, and that in the future it is crucial to achieve the results which will primarily help citizens have a better quality of life.
Lajcak, who was High representative in BiH a few years ago, told reporters that he cares for BiH and that his wish is to see BiH become a successful, functional and stable country. Lajcak rated this last year period as positive because BiH made concrete results for the aspirations of the country on its path towards the EU. He recalled that the Reform agenda and Action plans were adopted on all levels and added that he expects that it will be recognized in this year's report by the European Commission on progress of the country.
"If we look at the region we see that all the countries have made progress. Croatia is already in the EU and NATO, Montenegro is negotiating with the EU and expect to receive an invitation to join NATO, Serbia will soon open the first chapter, and that Kosovo signed a Stabilisation and Association Agreement. They all had problems and challenges, but they found the strength to overcome in the name of the European future. I want the same for BIH as you can and certainly deserve", Lajcak said after meeting with Crnadak.
Commenting the initiative of a referendum in the RS on the state Court and Prosecution, Lajcak said that this notion is irrational and counterproductive.
"This initiative goes against the philosophy of existence of BiH. It is impossible that the entity level make decision related to the whole country. There is a mechanism that has been agreed with the EU. It is a structural dialogue, which is in progress, and now Dodik decided that his part of the agreement with the EU, about the dialogue, is not respected and came back to that question. I think that the High Representative is smart enough to make a decision that will show it is absurd and does not help the citizens of either the RS or anybody in BiH, Lajcak stressed.
BiH Minister of foreign affairs, Igor Crnadak, said that BiH is very serious with intention to submit the credible application for EU membership, as soon as it is possible.
"We are ready to make progress on all three fields in which it is expected: on the implementation of the reform agenda, an adaptation of the Stabilisation and Association Agreement and field coordination mechanism. We expect that we'll soon show some results and that we have the strong support of the Slovak Republic", Crnadak said.