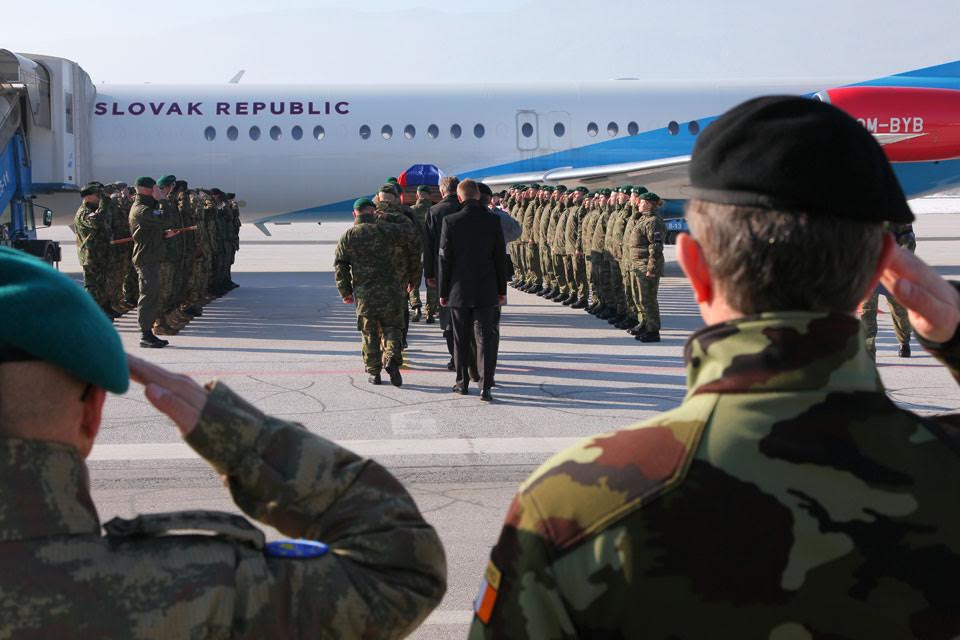 Personnel from every EUFOR nation joined EUFOR Chief of Staff Brigadier General József Szpisják and dignitaries from the Slovak Republic for the solemn repatriation ceremony of Major Peter Pavlovský at Sarajevo's International Airport on Friday.
Major Peter Pavlovský, who worked as a personnel and finance staff officer, was suddenly taken ill to the Camp Butmir on Wednesday morning. Despite the efforts of EUFOR medical specialists and local hospital staff, he passed away that same afternoon.
An aircraft from the Slovak Republic flew to Sarajevo's International Airport for the repatriation on Friday morning. A short and moving final farewell ceremony took place at the airport, attended by the Minister of Defence of the Slovak Republic, Peter Gajdoš; the Chief of the General Staff of the Armed Forces of the Slovak Republic, General Milan Maxim; and the Ambassador of the Slovak Republic to BiH, Martin Kačo. They were joined by EU Special Representative Ambassador Lars-Gunnar Wigemark and the Chief of EUFOR Staff, Brigadier General József Szpisják; Brigadier General Mirsad Ahmić from the Armed Forces of BiH; Brigadier General Robert Huston from NATO HQ Sarajevo; Assistant Minister Zoran Šajinović from BiH Ministry of Defense; and military personnel from all 19 EUFOR nations and the Armed Forces of Bosnia and Herzegovina.
During the brief ceremony, COS EUFOR posthumously awarded Major Peter Pavlovský the European Union Common Security and Defence Policy Medal 'Althea' in recognition of his service in Bosnia and Herzegovina. A trumpeter from the Band of the Armed Forces of Bosnia and Herzegovina played the final solemn musical tribute to Major Pavlovský.
In a statement, COS EUFOR encapsulated the mood of everyone at EUFOR:
"Our thoughts are with the loved ones he leaves behind."
Confirming the sudden, tragic event on Thursday, COS EUFOR Szpisják said that it is a great sadness.
"Major Pavlovský passed away in hospital on Wednesday after suddenly being taken ill, despite the efforts of EUFOR medical specialists and the local hospital staff to save him. On behalf of all EUFOR personnel, I would like to express our most sincere condolences to his family at this difficult time.
Major Pavlovsky was a much valued member of EUFOR, where he worked as a personnel and finance staff officer. He will be sorely missed by his colleagues serving in BiH. EUFOR will support his family and the Ministry of Defence of the Slovak Republic as much as possible with arrangements for his repatriation and remembrance," said a high-rank EUFOR officer…/IBNA