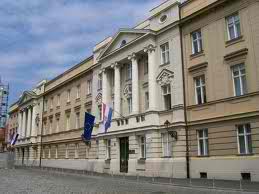 By Natasa Radic -Zagreb
Croatia will become the 28th member of the European Union on July 1st. Although it can be expected that EU entry can support the economy in the short term, the current pressures on the economy will remain the main reason for inhibiting the growth – according to the report of the European Commission's spring economic forecasts for 2013-2014. with estimates of growth, employment, inflation and the budget deficit in the Member States, Croatia, the candidate countries and in the world's major economies – the United States, Japan, China and Russia.
Thus, the expected decline in the Croatian economy will be by one percent this year and next year, only a slight rise of 0.2 percent but changing the trend from minus to plus. The unemployment rate could reach 19.1 percent and next year even rise to 20. 1 percent according to the Commission experts.
Compared to winter forecasts, the Commission has now further reduced the projections and they are now worse then a few months ago. In February, the Commission envisaged a decrease of 0.4 percent this year in Croatia, a growth of 1.4 percent next year, and the unemployment rate of 15.8 percent this year and 14.9 the following year.
Considering the huge problem of unemployment, only two states have a worse prognosis than Croatia – Greece and Spain which this year should have an unemployment rate of 27 percent. Next year the unemployment in Greece should fall to 26 and in Spain to 26.4 percent.
The Commission cites several reasons for weak domestic demand, including a further increase in unemployment, high levels of household debt, deleveraging pressures, cutting nominal wages and inflation, which is expected to remain at around three percent.
It is expected that the private investments this year willfall at a slower pace, and the recovery is expected next year. The Commission argues that the new laws on corporate taxes, the law on strategic investments and entry into the European Union could have a positive impact on the flow of investment. Deleveraging of banks and weak domestic demand adversely affect private investment. This could partially offset the realization of some large government investments in 2013 and 2014, although there are risks in the implementation of these investments, the Commission added.
For the Croatian economy no good news are the fact that some of its major trading partners expect weak growth in the near future.
The Commission adds that Croatian companies can expect increased pressure by joining the EU, and exiting CEFTA (Central European Free Trade Association) may affect trade exchange with partners in the region.