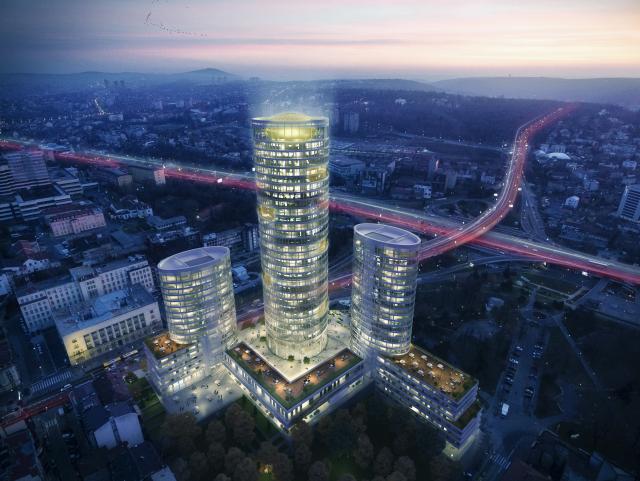 The new business-residential building "Skyline Belgrade" is to be constructed in the center of Serbian capital, mayor Sinisa Mali and head of the Israeli investor announced today. The building will be situated at the place where currently the ruins of the former interior ministry's seat are located, damaged during NATO's bombing of Serbia in 1999. The investors from AFI Europe said that "Skyline Belgrade" will be consisted of three towers.
The project worth 200 million euros is scheduled to start in August or September. It would have 68,000 square meters. "The 'Skyline' project would give a new impetus to the development of construction industry and it would incite the economy by creating new jobs", Sinisa Mali said. As he said, it would be "a symbol of everything that has been done in the past three years and the evidence of complete behavior change of the current city authorities when compared to their predecessors".
"This location was neglected for 20 years, nobody paid attention to it. We have found the solution with the investors and this projects are important for the development of the city", Mali said. "They demonstrate that both Belgrade and Serbia are on a recovery path and that we gain the confidence of investors again", the mayor went on.
He underlined that AFI Europe company, which has already invested in Belgrade's "Airport City" and "Central Garden", is committed to investing in Serbia.
"This is the confirmation that we vote for this country and intend to reinvest in Serbian economy. We believe in Serbian economy and we were among the first foreign companies to invest here", Adir el Al from AFI Europe said. He stressed that "Skyline Belgrade" will be at a "prestigious location", next to highway E-75./IBNA