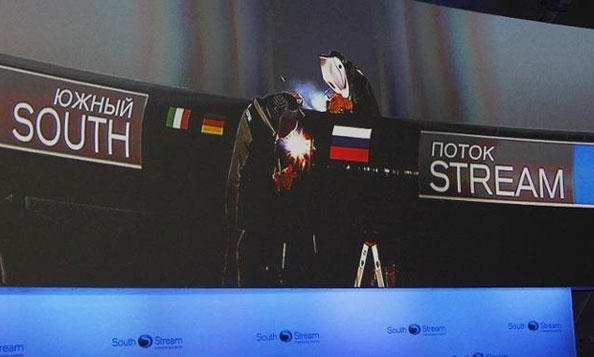 IBNA Special Report/ Authorities in Skopje are facing a dilemma as far as the involvement in the "South Stream" pipeline coming from Russia is concerned. This unclear situation has been caused following the new political conflict between the European Union and the Russian Federation in relation to the crisis in Ukraine. Analysts and experts of political affairs and energy say that this situation is problematic and that the country will find itself between two fires; to continue with its involvement in the Russian pipeline or to remain loyal to the EU. IBNA hears from Konstantin Dimitrov, expert on energy affairs and head of the Macedonian Center for Energy Efficiency and professor Atanasko Tunevski
Skopje, April 8, 2014/Independent Balkan News Agency
By Naser Pajaziti
Analysts and experts of political affairs and energy say this situation is problematic. According to them, the country will now find itself between two fires and has to decide whether to continue to be involved in the Russian pipeline or to remain loyal to the EU.
"I believe that we now have a political game which will finally offer a solution to the Ukrainian crisis and the pipeline, because Russia is not interested for this giant project not to be built and not to continue. But the EU also needs gas. As a country, we must follow the situation by being alert and we must not be involved in it", says Kostantin Dimitrov, energy expert and head of Macedonian Center for Energy Efficiency.
According to him, billions of dollars have been spent for the construction of this energy project and many western European companies have been involved in it.
Professor Atanasko Tunevski says that the EU will not suspend the construction of the pipeline, but for the moment, we have a situation where Brussels wants to benefit politically. According to him, on the other hand, Skopje must respect every decision which emanates as an agreement between the two sides involved.
"Europe needs the Russian pipeline, but if there's a decision to suspend the construction of this project, all countries which will be involved or which have been involved, will be damaged. Macedonia too in this case. EU member countries must respect the decision, but other aspiring countries will do the same thing", says the expert on energy affairs Tunevski.
According to him, the most damaged ones will be companies involved in the construction of this gigantic project.
FYR Macedonia will also be hit by the "Southern Stream" pipeline crisis. This country is planning on building the pipeline network which will transport the Russian natural gas and will secure an amount of gas from this process.
Experts say that it will be difficult for the country to use other pipeline alternatives such as TAP. "Given the situation with neighboring Greece, it would be a less acceptable option to be locked into the TAP pipeline which goes through Greece and goes to Italy. This is the only transit pipeline and the inclusion in it is difficult", says Tunevski.
Due to the situation with Ukraine, EU has warned that it will suspend the construction of the pipeline, including its extension in the Balkan. /ibna/