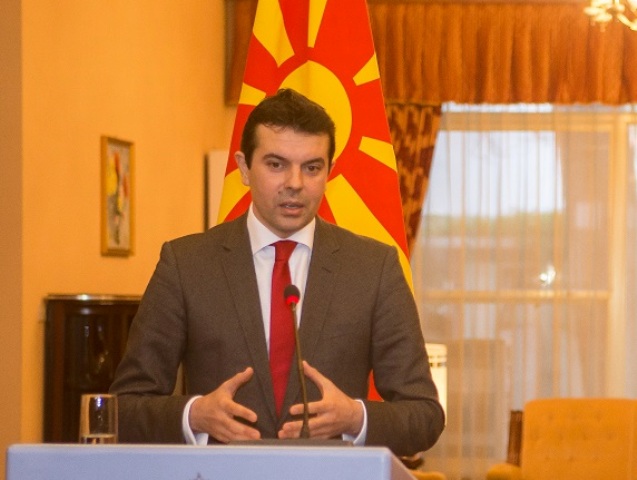 Tirana, January 26, 2015/Independent Balkan News Agency
Foreign Minister, Nikola Poposki said today in Tirana that for Skopje, it's important to have communication and open relations with all Greek governments.
"We congratulate the holding of elections in Greece and we hope that we will be engaged to boost up talks", said Poposki following a meeting with his Albanian counterpart, Ditmir Bushati (photo).
Poposki also commented the situation in the neighboring country. "Greece is ahead of important challenges in relation to the economic and financial aspect".
Poposki said that it's in the best interest of his country to overcome these challenges. "Both countries are linked and every positive relation in the Republic of Greece has a positive impact in our country", said he.
Stopping on the issue of the name dispute, he added: "We're entirely committed on overcoming bilateral issues and we are hoping to have an intensive dialogue and closer relations between all the countries of the region, including Greece".
But, is Skopje expecting the issue of the name dispute to be put on the table now that Aleksis Tsipras was elected? Mr. Poposki admits that this issue is still pending. "During the last decades, we have spent many moments, starting with the emergence of the name dispute and in the meantime, this issue has not yet been overcome. I don't want to speculate in relation to the form or the handling of this issue in the future from the Greek government and I don't want to speculate with any kinds of stances that politicians may have in relation to this issue".
In this point, Poposki admitted that the standstill in the integration process comes as a result of the name dispute. "This is the only obstacle for the accession in the NATO and opening of negotiations for EU accession and it's logical for us to provide more energy and we will do this with every government in Greece, as this is in our own interest".
Poposki said that there's maximum commitment to building an open and constructive relation between the two countries, while stressing that "cooperation between our two countries is excellent in all other domains". /ibna/