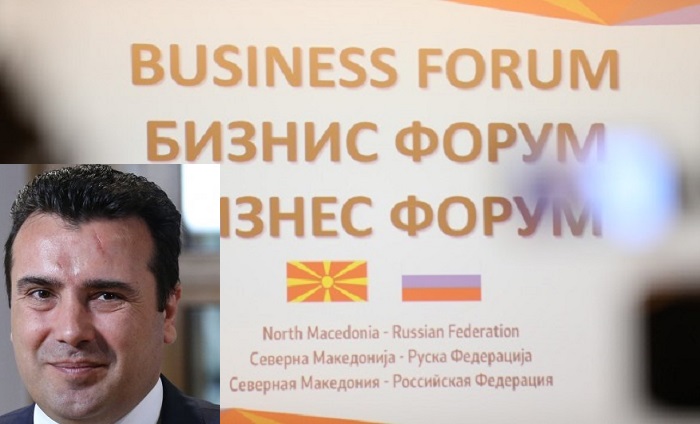 Zaev: We have no alternative other than NATO and the EU
Government authorities in Νorth Macedonia have reactivated the Joint Intergovernmental Commission for Co-operation with Russia, after five years. The commission was suspended in 2014, but now Prime Minister Zoran Zaev is optimistic that there will be good cooperation with Russia in economic and trade matters.
"Relations with the Russian Federation are friendly, but the potentials in the economy are underutilized and we need to work on this segment. In the dialogue of the Intergovernmental Commission which is resuming work, a new dynamic has been brought in this year. We must succeed. I believe that we will achieve serious moves", Zaev said at the North Macedonia – Russia Economic Forum, within the framework of the Intergovernmental Cooperation Commission, which continues its work in Ohrid today.
But Prime Minister Zaev said such a co-operation does not mean that NorthMacedonia is looking at alternatives other than NATO and the EU.
"Re-activating the Mixed Intergovernmental Commission with Russia does not imply any eventual response to the EU, but merely a commitment to intensify economic cooperation. The only alternative to the country is the EU and NATO", Zaev said.
Energy, gasification, air traffic, tourism, agricultural products are targets for cooperation between the two countries.
Russian Deputy Minister for Industrial and Trade Development Alexei Gruzdev said good conditions should be created for intensifying economic co-operation.
"It will depend on you and only so will you be able to see your competition in the market. We are convinced that this way the partnership will grow", Gruzdev said.
According to the latest data from the State Statistical Office, trade with the Russian Federation in the first eight months of this year amounted to USD 121.4 million, or 27.3 percent more than in the same period in 2018./ibna